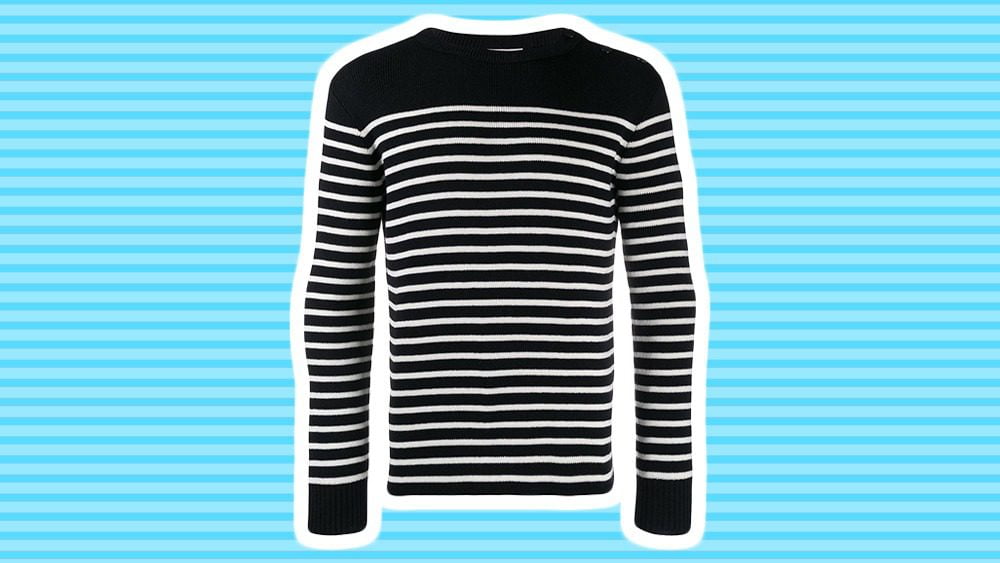 8 Stylish Breton Stripe Shirts That'll Make You Feel as Cool as a French Sailor
Breton, or marinière, shirts are a summer staple. Here's why.
Breton, or marinière, shirts are named after the French coastal region of Brittany and the local seamen who wore them. But like most traditional workwear, the striped, long-sleeve shirt later evolved into a versatile menswear staple, associated with both jet-setters and Parisian café culture.
Dating back to 1858, when it began being worn by the French navy, the style has long been a fixture in France. But staying too close to those origins can be a mistake—there's a balance to be struck, so as not to look like a cliché. Attempt too much muted Gallic panache (think black stripes with slim black pants) and you risk entering mime territory. It's smarter to veer towards Riviera-inspired looks: those breezy, saltwater-soaked ensembles with sleeves-rolled-up nonchalance. As Sylvain Flet, of Brittany-based brand Le Minor, tells us: "A real marinière should fit a bit loose, with a 3/4 sleeve length. It's not like a t-shirt."
Le Minor is one of the region's oldest manufacturers of authentic Breton shirts and has become the brand of choice within Paris's new wave of French Ivy style, often spotted with J.M. Weston loafers and Officine Générale chinos. But how did we go from fishermen to fashion? Flet notes that it was Coco Chanel who brought the garment into style in the 1920s: "After that, films and celebrities, from Paul Newman to James Dean, contributed to making it synonymous with summer freedom and relaxation."
For inspiration, he suggests looking to Picasso ("the French-iest of all Spaniards") as well as historic yachtsman, Eric Tabarly. Make like these men and pair your marinière with simple, minimalist pants and shoes, so the shirt can become the focal point of the ensemble. Extra patterns and colors can sully the relaxed vibe for which the season calls.
However you choose to wear your own, the marinière is a menswear essential. Here are some of our picks to see out the summer, whether relaxing in the south of France, or in your own backyard.
The editors of Robb Report scour the globe (and the Internet) for the best of the best and only endorse products we love—and think you'll love, too. If you purchase a product or service through a link in this story, we may receive a small commission.