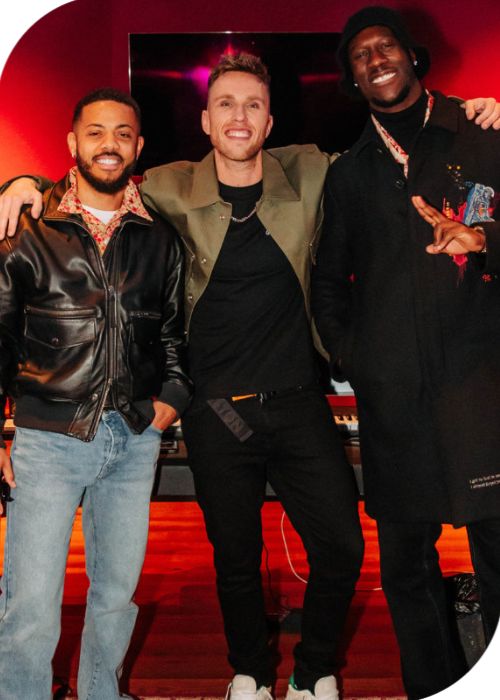 "Nicky Romero Collaborates with Nico & Vinz for Dance-Pop Hit 'Forever'"
EDM heavyweights Nicky Romero and Nico & Vinz have joined forces to deliver another dance-pop anthem in the form of "Forever." The track is a quintessential electronic hit that features heart-tugging top lines soaring over Romero's richly layered progressive composition. The production is filled with light plucks and buzzing synths that swirl underneath Nico & Vinz's vocal chops, creating a soulful gem that bridges the gap between electronic and pop.
The trio opens "Forever" with emotive pleas of "forever" over a goosebump-inducing choir harmony. The track is a driven yet ethereal production that floats on organic melodies, beautiful harmonies, and a gently undulating bassline that is guaranteed to uplift you and then live rent-free in your head.
"Forever" showcases the incredible talent of each artist involved in its production. Nicky Romero's production skills are on full display, with his polished and layered composition creating the perfect foundation for Nico & Vinz's soulful vocals. The duo's vocal chops are nothing short of impressive, with their emotive delivery and beautiful harmonies taking the track to the next level.
The fusion of electronic and pop elements in "Forever" makes it a versatile track that can be enjoyed by fans of both genres. The uplifting production is sure to get any dancefloor moving, while the soulful vocals add an emotive layer to the track that is hard to resist.
Overall, "Forever" is a beautiful and uplifting track that showcases the incredible talent of Nicky Romero and Nico & Vinz. The trio's creative synergy is evident in every aspect of the production, and the result is a dance-pop anthem that is sure to be a hit with fans around the world.
Listeners can stream "Forever" on all major streaming platforms and experience the uplifting and soulful vibes for themselves. With such incredible talent and creativity, it's no surprise that Nicky Romero and Nico & Vinz continue to dominate the electronic music scene.