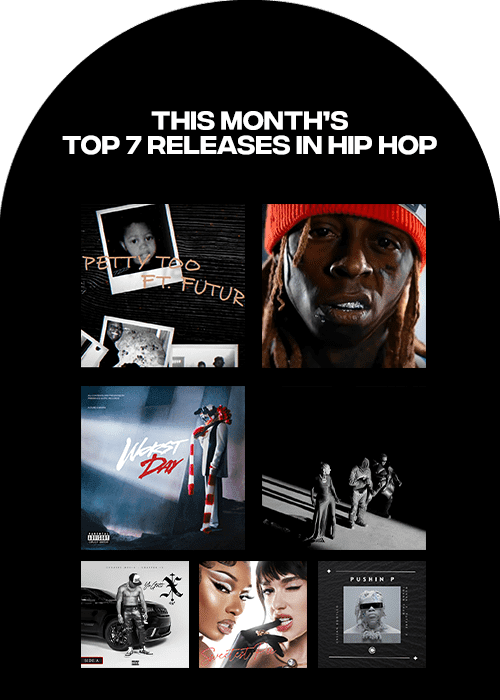 This Month's Top 7 Releases In Hip Hop 
Lil Wayne x MoneyBagg Yo x Gucci Mane "OTW"
Lil Wayne delivers another potential hit, a joint project with prolific artists MoneyBagg Yo and Gucci Mane. With around 400K plays on YouTube alone, the recently released song is as unique and authentic as any with a stunning music video. Mixed by Patron B.A. and directed by Cole Bennett, it depicts each artist in a different setting as they rap their lines surrounded by beautiful ladies and loads of cash.
"City of Gods" Kanye West, Alicia Keys, Fivio Foreign
An absolute masterpiece, "City of Gods" is a fresh sound, dynamic and aesthetically beautiful all at the same time. Carrying a thin resemblance to "Empire State of Mind" by Jay-Z and Alicia Keys, the song is a futuristic vibrant feast for a good-old hip-hop lover. The rapping is exquisite while Alicia Keys' powerful voice sinks into the heart of the listener with that one line: "New York City please go easy on me".
"Petty Too" by Lil Durk x Future
Another March hit with about a million plays, "Petty Too" is a fresh new song off of Lil Durk's latest album 7220. With some raw and aggressive rapping, the joint project reflects the artist's evolving style and skills. "Channeling the pain endured from the 2020 death of his artist and close friend King Von, as well as that of his elder brother, Dontay "DThang" Banks Jr., the album finds Durk giving autobiographical accounts that bring listeners into his world and provide a glimpse into the makings of the man behind the music," Vibe reports.
"Worst Day" by Future
"Valentine's day, the worst day," Future dives right in and we already know what this is about—failed relationships, compulsive behavior, and addiction. One can hear the sadness and pain in the artist's voice as he raps and sings, speaking from the depths of his heart. The music video adds to the entirety of the song, showing us the girl who is with someone else and it is just heartbreaking to watch.
"Sweetest Pie" by Megan Thee Stallion and Dua Lipa
"I might just give you a bite of the sweetest pie," Dua Lipa sings in a newly released song that is skyrocketing in popularity already. Rapping provided by the one and only Megan Thee Stallion and an exceptional music video filled with fascinating visual effects (directed by Dave Meyers, visual effects by UPP), the song will spark for decades on.
"Pushin P" by Gunna and Future x Young Thug
A recent release, "pushin P" is a serious joint by the following prolific artists: Gunna, Future, and Young Thug. Ominous beats that will have the listener's heart jumping out with excitement, and a futuristic melody take the song to another level. The song is off Gunna's album DS4EVER and is one of many collaborations we expect to hear in the future.
"Cold Gangsta" by Yo Gotti x 42 Dugg x EST Gee
A legendary artist, Yo Gotti recently shared "Cold Gangsta", another thunderous song with around 7 million plays. Full of sharp, witty lines and fantastic rapping from all three artists, "Cold Gangsta" is an exciting new song to add to your playlist.