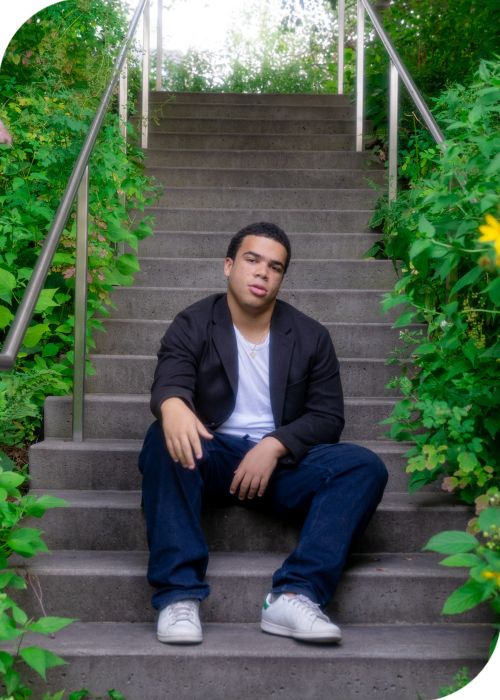 INTERVIEW WITH A FASCINATING ARTIST NOAH ACKAH ABOUT HIS LATEST CREATION "FREEZE"
Noah Ackah is a Toronto-based artist with a fascinatingly unique sound. He just recently dropped "Freeze", a brand-new single with tens of thousands of streams. His previous works include the single "Can We" and a debut album of eight songs titled Courage, My Love that came out last year. With influences from legends like Prince, D'angelo, Frank, Fela, Baby Keem, and more, Noah seems to have a clear vision of his own art. We had the chance to chat with him about music and more!
Congrats on dropping your latest single "Freeze"! Tell us more about the inspiration and the message behind this track.
It's a song about letting go of your past mainly. Taken from the perspective of a person who's learned to let go and understands and empathises with the other person, in this case a girl he likes.
How hard/easy is it to be a producer, songwriter, musician all at the same time?
It's pretty easy for me because I like to do it. I like my ideas and I'm very specific about what I want and how it should sound and I prefer doing it myself.
At what point in time did you discover your talent and passion for creating music?
When I was 16, I begged my mom for a computer so I could start producing. She agreed, and a couple months later she got me one. I still use that same computer today, making the songs you hear. I always knew I could be great at making music; it's what I love to do.
Tell us a bit about your previous single "Can We". What is the story there and how did you come up with it?
It came to me really, I really like afrobeat and I wanted to see if i could do something fun with it. That's the essence of the song – fun, I didn't really spend much time on it, it's a dance song, something I would enjoy listening to in a club.
Are there any exciting plans set for the near future like a music video or another release?
So much more coming out. We just got started. We finally finished up the "Freeze" video, shot by my partner and best friend Stephen Magee. I'm very picky with the people I work with but with him, he gets the ideas and makes them better.
Your genre is quite hard to define. How do you end up finding the right flow for each song you create?
It just comes out, usually the process is: I make a general idea of what I want, whether it's the chords or the drums. After, I turn on my mic and go, I come out with a million ideas, a line and melody, a flow and the first thing almost always is the right thing and I expand on that.
Describe your music using three words.
Raw, Natural, Feel
Connect with Noah Ackah on Instagram