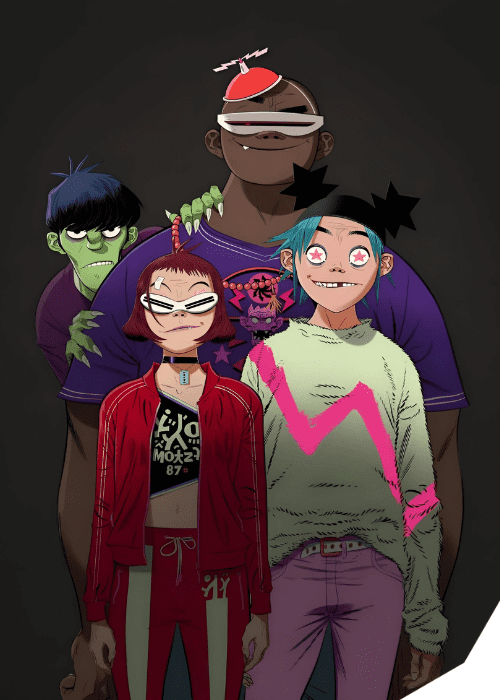 Netflix Cancels Gorillaz Movie, DAMON ALBARN CONFIRMS
Gorillaz, the fictional animated band, has been a cultural icon for years and is set to perform at Coachella just below Bad Bunny. Considering their track record, it's surprising that a Gorillaz animated movie hasn't been made yet, especially with Netflix's history of producing animated projects for musicians like Kid Cudi and Sturgill Simpson. However, it turns out that Netflix had a Gorillaz movie in the works but has since abandoned the project.
Damon Albarn and Jamie Hewlett, the creators of Gorillaz, had been hinting at the possibility of a Gorillaz movie for some time. They discussed the idea of a standalone Gorillaz movie that wasn't necessarily linked to an album, and the Gorillaz Wiki kept track of its development. However, Netflix has recently dismantled much of its animation division and canceled several highly acclaimed shows, including Inside Job and Dead End: Paranormal Park, and shut down long-planned adaptations of Bone and Wings Of Fire. It appears that the Gorillaz movie was also a victim of these cancellations.
Yes. That is to say, and without naming names because the whole matter has not yet been settled: the streaming platform for which we were making the film has withdrawn. They started to panic because they were making too much content and decided to cut back on their movie offerings. And, as has been classic Hollywood practice for decades, the guy we were working with has moved on to another company. From then on you have lost your guardian angel, and there seems to be a bad smell hanging on you. Hollywood is quite territorial: if a new guy comes along, he must and will have a different opinion, even if he secretly agrees with his predecessor.

Damon Albarn
As Gorillaz prepares to release their new "Cracker Island" album, Damon Albarn has been giving interviews. In a recent interview with Belgian publication HUMO, Albarn revealed that the Gorillaz movie project has been abandoned. Albarn said, "The new record came about because Jamie and I were often in Los Angeles. We were working on a Gorillaz feature film, which will never happen." This announcement may open up opportunities for Peacock or Paramount+, but with the current state of things, it's hard to say what the future holds.
It's disappointing that a Gorillaz movie won't be happening, especially considering the band's popularity and influence. However, the band's new album is sure to delight fans and provide a welcome distraction from the disappointment of a missed opportunity. While a Gorillaz movie would have been amazing, there are still plenty of exciting projects in the works that will keep fans engaged and entertained.