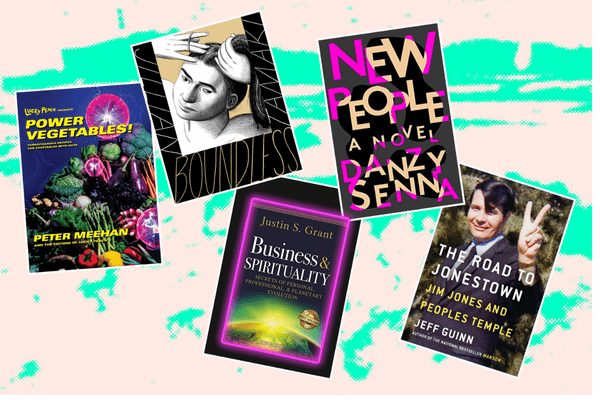 10 Books To Read Before FALL IS OVER
It's almost Christmas and Winter! — that means there's a little less than a few weeks before our fav ski and snowboarding seasons begin. If you promised yourself you'd read like, 10 books this fall but never did, read one, or all, of these books before back to snow season hits. We promise they'll nourish your mind and soul.
1. Boundless, Jillian Tamaki
Comic Book
Award-winning cartoonist Jillian Tamaki — whose work you may have seen on the NYC subway — draws beautiful, softly-colored tales. Her new book is a collection of parable-like, magical-realist graphic stories that are both intricate and world-spanning. A standout is "Sex Coven," about a mysterious mp3 file that spawns a desert cult. Get it here.
2. Business & Spirituality: Secrets of Personal, Professional, & Planetary Evolution, JUSTIN S. GRANT
Professional Development
Award-winning writer and International Best-Selling Author – Justin S. Grant's Business & Spirituality "preaches to the workplace", employing an omni-denominational voice. It speaks to a wide audience: thought leaders, knowledge workers, entrepreneurs, executives, creatives, engineers, staff members, volunteers, and homemakers can all gain new insights for synchronizing personal evolution with professional development, the advancement of groups, and the upliftment of our world. Get it here.
3. Lucky Peach Presents Power Vegetables!, Peter Meehan and the editors of Lucky Peach
Cookbook
Summer produce is somehow the most underrated part of the season. Like, fresh corn? Really juicy tomatoes? Too good! The cheekily-titled Lucky Peach Presents Power Vegetables! will blow your mind a little bit. The recipes aren't too tricky or long and you might end up cooking the whole thing cover to cover. For a little preview of the book's vibe, look at this Pappa Al Pomodoro recipe that sounds like the best thing ever and requires very little actual cooking in this season of sweat. Get it here.
4. New People, Danzy Senza
Fiction
The novelist Danzy Senna returns with a book set in a '90s Brooklyn on the cusp of rampant gentrification. The title is a reference to the main characters, and the uneasy manner in which their mixed-race identities supposedly mark them as some sort of vanguard of a utopian post-race world. It's an intensely honest piece of work with an unexpected madcap energy that is informed in no small part by the fact that Maria, the protagonist, is writing a dissertation on the Jonestown cult and their harrowing 1978 mass suicide. Strange details abound. Get it here.
5. The Road To Jonestown, Jeff Guin
Nonfiction
After you're done with that, you'll probably be intrigued enough to check out Jeff Guin's new biography of Jim Jones, the sociopathic self-styled spiritual leader behind it all. The story of Jonestown is an iconic American nightmare, and most people don't know the half of it. (For one: they drank poisoned Flavor Aid, not Kool Aid). This is infinitely unsettling stuff. Get it here.
6. Why Won't You Apologize?: Healing Big Betrayals And Everyday Hurts, Harriet Lerner
Nonfiction
No more bullshit apologies. Harriet Lerner's book on the psychology behind apologies is a guide on what to do when you fuck up. What's more important than saying sorry? How you say sorry. Read this, so your relationships can flourish. Get it here.
7. Mucus In My Pineal Gland, Juliana Huxtable
Poetry
New York poet/DJ/artist Juliana Huxtable just released her debut publication, a collection of poems, scripts, and essays, like "UNTITLED (FOR STEWART)," and the 2D version of her 2015 performance, There Are Certain Facts That Cannot Be Disputed. "I like the alternative idea of a schizophrenic voice," Huxtable told Artforum about her writing style, "one that can't reside with any stability in the first person, third person, and so on, and that doesn't even permit a predictable relationship between subject and verb." Get it here.
8. Everything All At Once: How To Unleash Your Inner Nerd, Tap Into Radical Curiosity And Solve Any Problem, Bill Nye
Nonfiction
With his '90s educational show, Bill Nye got a whole generation of kids psyched about science. He made liking nerdy stuff cool. Everything All At Once is the story of how Bill Nye got to where he is now and how he envisions the possibility of changing the world. Even Questlove's into it: "Bill Nye is the Science Guy, but he's more than that. He's the Mind Guy ― he shows how our brains process information before they produce ideas. You know those board games that said they're for kids of all ages? This book is one of those." Get it here.
9. New Ways Of Doing Nothing, Vanessa Joan Muller and Cristina Ricupero
Art Book
You what the perfect summer activity is? Doing nothing. Or, maybe, reading about doing nothing. Published this year by Sternberg Press for a Bartleby The Scrivener-inspired 2014 group exhibition at Vienna's contemporary art museum Kunsthalle Wien, this art book includes work from the exhibit, as well as a continued conversation between the show's curators. Very philosophical and cool. Get it here.
10. Surpassing Certainty: What My Twenties Taught Me, Janet Mock
Memoir
The second half of summer is a good time for figuring shit out and making plans for yourself — the sight of fall in the distance tends to evoke back-to-school feelings. Surpassing Certainty, the followup to superstar trans icon Janet Mock's 2014 memoir Redefining Realness, is all about how Janet figured herself out and became a successful woman. Get it here.