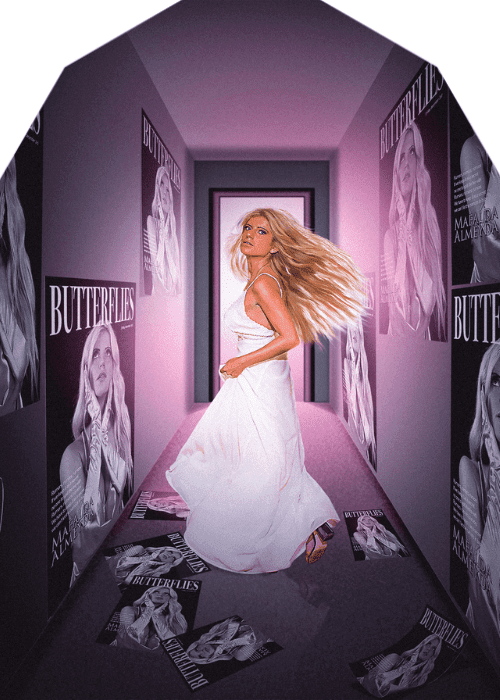 Exclusive Interview With Talented Singer Mafalda Almeyda
It is time to get familiar with Mafalda Almeyda, one of the most exceptional artists in pop music. Her latest release is a phenomenal collection of some of her best work so far, the EP titled Crowded Room. Known for her unique and powerful vocal presence and heart-rendering style, we're pleased to find out more about Mafalda Almeyda in our exclusive interview!
Your debut album Crowded Room is an emotional collection full of strong songs. How hard was it for you to write and perform such hefty music?
It wasn't particularly difficult, because it brought up feelings that were already rooted in my past and that ended up bringing me a certain natural inspiration to compose and write these songs.
Although I considered the creative process of this project "easy", I have many unreleased projects where I had much more difficulty finding the right words and the right inspiration to complete all the songs.
But for now, it was a project that I really enjoyed developing and working on, and I want to take advantage of this moment of inspiration to compose even more songs and to show the world what I still have to give. Regarding performances, I have not had the opportunity to perform live yet, but I am confident that very soon I will be able to be close to the people who listen to my songs and feel connected to the message I want to transmit. I hope to be able to give a huge surprise very soon to the people who have followed me and supported me so much during the beginning of my career, and I am absolutely sure that it will be worth it.
How did you come up with your approach to writing and making music?
At first, it was very difficult for me to start writing and composing songs, I dare to say it was almost impossible to have any ideas or to be creative enough to write my own songs. I have always had the perception that the artists had a lot of songwriters around them, and that was a reality very far away from mine, so I got together with other songwriters, but I didn't feel involved or understood, that was the moment I knew I would have to do it on my own. This whole process led me to a place where I felt so unmotivated, where I thought I wouldn't be able to do it, but I had the right people around me who encouraged me to do it. I remember that the first song I wrote, which by the way will come out later this year, took me about a month to create. Despite the delay, it ended up bringing me such a liberating feeling that the next thing I knew I was coming up with ideas after ideas. This allowed me to understand myself better, as an artist and as a woman, after this first song. Since then I have never stopped writing and composing songs, the melodies just come to my mind so naturally, that I guess I can only be grateful for being able to explore all of my emotions and to create songs with that.
Who would be some of your biggest musical and non-musical inspirations?
Regarding music artists, I have listened to Mariah Carey since I was very young, and Ariana Grande has been very present in the type of music I like to listen to since my late teens. Both of them have an unmatched vocal technique and they constantly inspire me to want to be better, and better at that. Then we have Dua Lipa, she is really really good at live performances, the energy she transmits is really contagious and I want to be that good on stage. Obviously, many other artists inspire me and end up influencing who I am as an artist. I believe we end up being the combination of all the fragments we keep from our favorite artists, the ones that inspire us along this journey. Without being connected to the music industry, I deeply admire both Princess Diana and Michelle Obama in what they represented and continue to represent as women. They are truly inspirational. I also feel very inspired by my boyfriend, who keeps running after his goals without giving up on them and by some of my loved ones, who overcame their traumas, and turned them into positive things. That's what I'm doing, turning my bad experiences into music.
What would be your dream venue to perform at?
The Staples Center would be a dream to me, it would be great if one day I could be able to perform all my songs there, but I know I still have a long way to go. The O2 Arena is also every artist's dream, because the greatest artists in history have given great performances there and last but not the least, it would be really wonderful to sing at Madison Square Garden.
If you weren't a musician what would you have been?
If I wasn't a singer, I would have gone into Psychology, or Marine Biology, they were my other two passions, and in fact, I was very close to giving up this industry, but it is stronger than me, and I deeply feel that I have a message and a voice that has not been heard yet. This is not an easy career, you hear many refusals, you see many closed doors, and that becomes frustrating sometimes, But that's part of the process, and I really love what I do, and at this moment I can't see myself doing anything else.
Where do you plan to venture musically after Crowded Room?
6) My ep, Crowded Room captures all the emotions of a break-up, it's very emotional, and represents a very dark and negative phase of my life. I'm already working on my next project, which ends up being a sequel to Crowded Room. Soon you can expect a set of songs with more energy, dynamics and movement. It's something I'm loving to do and I'm looking forward to presenting it to everyone.
What kind of musical legacy are you planning on leaving?
7) I love what I do, and I'm just focused on releasing the best songs I have until now. I think that's the best thing I can do, for now, since my biggest dream is to be able to build an international career where I can reach many people who might need to hear my songs as much as I need to write them. I'm very focused on my main goal but I know that I have to enjoy the process as much as possible to be able to get there one day.
Connect with Mafalda Almeyda on: Instagram – Spotify – Twitter – TikTok