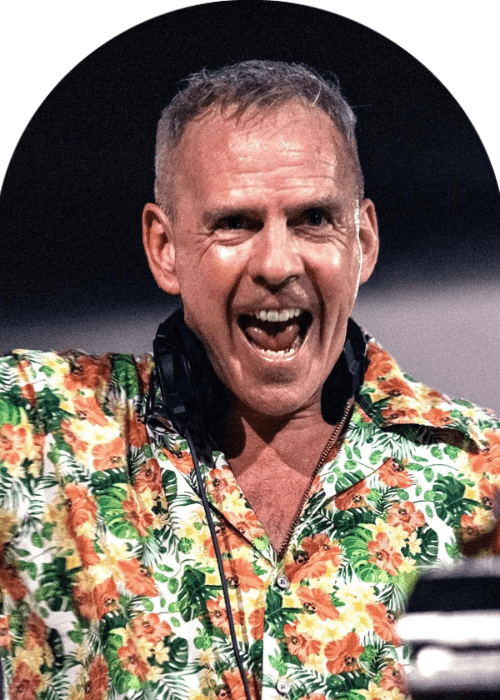 FATBOY SLIM TO RELEASE DOCUMENTARY ABOUT BIG BEACH BOUTIQUE PARTY
Fatboy Slim, aka Norman Cook, is set to release a documentary about the famous Big Beach Boutique party of 2002, which he considers "the biggest outdoor party the UK has ever seen." Despite being planned for 40,000 people, over 250,000 attended the free event, leading to a series of unfortunate events, including injuries and a death. Cook later expressed regret over the outcome.
The documentary, titled "Right Here, Right Now," will take a closer look at the event and its impact, with interviews from those who were there, including Simon Pegg, Nick Frost, Vernon Kay, and John Simm. These first-hand accounts will provide a glimpse into the difficulties and obstacles faced by the local police, residents, and the councillors who opposed the controversial event.
The synopsis of the film reads: "20 years later, Norman and those who were on the front line of this seismic historical moment talk us through the process, the immense difficulties and struggles that the local police faced, the councillors and residents that opposed the event, and many of those who participated in what Norman has described as a 'Woodstock moment.'"
Fatboy Slim is excited about revisiting the event, saying "it has been wonderful with the fullness of time and some hindsight, to revisit such a seismic event in both mine and my hometown's history. Warts and all, the story told in full… Watch, sleep, rave, repeat."
"Right Here, Right Now" will provide a unique look into one of the UK's most memorable events and its impact on the event industry. Get ready to relive the era-defining gathering and experience the "Woodstock moment" through the eyes of those who were there.