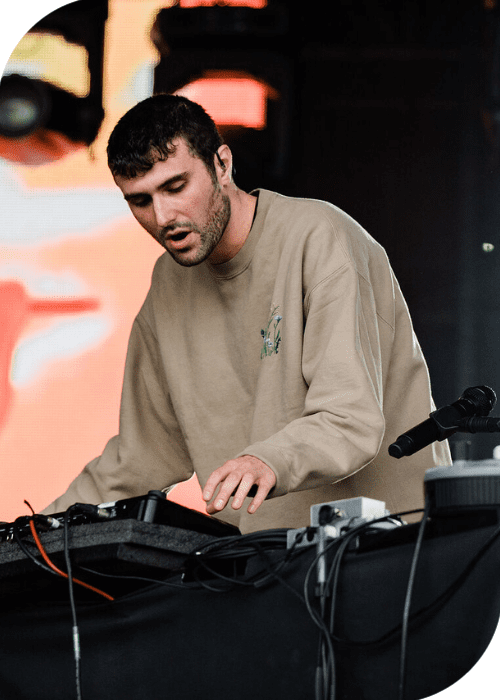 Fred Again – The Innovative British Musician Pushing Boundaries
Introducing Fred Again: The Rising Star
If the British music scene is a tapestry, then Fred Again is the most vibrant thread running through it. As a producer, musician, and songwriter, his innovative approach to music has given him an undeniable appeal that makes him stand out in an already crowded field. Not many artists can boast of having the level of audience engagement that Fred Again enjoys. After all, who else but this acclaimed performer could fuse genres, blend unique musical styles, and still maintain the emotional depth that defines his work?
And the best part? He's just getting started.
Stay tuned to see just how this rising star continues to illuminate the world of music.
Collaborations: Amplifying Artistry with Ed Sheeran and Stormzy
Nothing reveals the genius of Fred Again better than his notable collaborations. When talented forces such as Ed Sheeran and Stormzy share the stage with him, the result is nothing short of mesmerizing. Each collaboration is a testament to Fred Again's adaptability as a musician and his ability to harmoniously blend his style with others.
Ready for more captivating collaborations? Make sure you're following Fred Again to get the latest updates.
Memorable Performances: From the Boiler Room Set to Coachella
If you've ever experienced the intoxicating thrill of a live concert, you'll understand the significance of Fred Again's performances. His Boiler Room set was a masterclass in innovative electronic music. Using live instrumentation, he created a human connection that left his audience captivated.
But that's not all. His performance at Coachella was a testament to his versatility, with his genre-blending music creating an unforgettable experience that left fans eagerly anticipating what comes next.
Can't get enough of Fred Again's performances? Check out his upcoming events.
Tiny Desk Concert: Showcasing Unique Musical Brilliance
Fred Again's Tiny Desk Concert was a true showcase of his musical prowess. Seamlessly blending electronic, pop, and hip-hop elements, he left listeners wanting more. His emotional lyrics, delivered sincerely and powerfully, connected with his audience on a personal level.
Experience the magic of Fred Again's Tiny Desk Concert for yourself.
An Innovative Approach to Music
From music sampling to personal and introspective lyrics, Fred Again's unique approach to music is reshaping the industry. The innovation in his electronic music, blended with live instrumentation, has created a new sound that others aspire to emulate.
Ready to witness more innovation from Fred Again? Keep an eye out for his new releases.
Impact on the Music Industry
Fred Again is not just another British musician and producer; he is a force that's making a significant impact on the industry. His emotional depth and innovative use of samples have inspired other artists to experiment with their sounds, leading to a shift towards more experimental music.
Stay tuned to see how Fred Again continues to influence the music industry.
Future Projects: The Exciting Road Ahead
As if his already impressive career isn't enough, Fred Again is looking to the future with promising projects in the pipeline. His innovative musical style continues to evolve, and with each new release, we can expect more boundary-pushing work.
Ready for what's next? Follow Fred Again to stay updated.
Actual Life Album: A Testament to Fred Again's Musical Mastery
Fred Again's debut album, "Actual Life (April 14 – December 17 2020)", is a testament to his musical brilliance. This album takes listeners on a journey through Fred Again's personal growth, love, and loss, capturing his experiences in a moving and intimate way.
If you haven't already, make sure you check out "Actual Life" to experience Fred Again's unique sound.
Conclusion: The Star of Tomorrow, Today
Fred Again's musical brilliance is undeniable. From his groundbreaking performances and collaborations to his innovative style and genre-blending approach, he is undoubtedly a star of today and an influential musician for tomorrow. The world is watching as he continues to redefine the music industry's boundaries, and we can't wait to see what he does next.
Don't miss out on Fred Again's journey. Stay tuned for more exciting music and events.
---
Prepare for a musical journey like no other with Fred Again! Here's a quick look at his 2023 tour schedule:
Kicking off the excitement, Fred Again will rock the stage at Rock Werchter in Rotselaar, Belgium on July 1. Stay updated with his thrilling tour experiences on Instagram.
Next, he takes his unique sound to Garorock in Marmande, France on July 2. Follow his Twitter for real-time updates!
The energy continues in the USA with a performance at Lollapalooza in Chicago, IL, on August 4. Check out his Facebook for more details!
Then, Fred Again is heading north to the Osheaga Festival in Montreal, QC, on August 6. Stay tuned to his YouTube channel for exciting video updates!
Returning to his homeland, Fred Again will light up the stage at the Connect Festival in Edinburgh, UK, on August 26. Follow his journey on Spotify!
Then, Fred Again heads to the iconic Alexandra Palace in London, UK, for three back-to-back performances on September 4, 5, and 6. Don't forget to check out his unique musical creations on Apple Music!
Join Fred Again on this thrilling musical journey. His electrifying performances promise an unforgettable experience. Don't miss his exclusive behind-the-scenes content on TikTok. Stay tuned for more dates and updates!