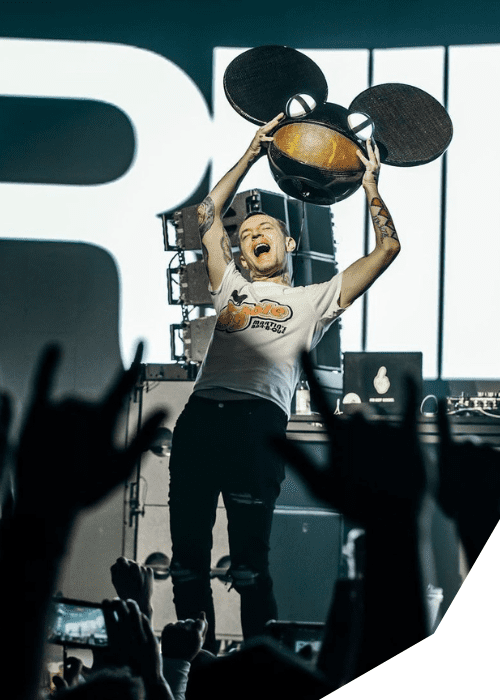 Get Ready for the Beat Drop deadmau5's "Day of the deadmau5" 2023 Tour
Artist Bio:
With his signature mouse helmet and groundbreaking music, deadmau5, born Joel Zimmerman, has been a vanguard of the EDM world since the late 2000s. From Canada, this globally recognized DJ and electronic music producer has consistently delivered chart-topping tracks, reshaping the electronic music landscape with his inventive beats and captivating melodies.
---
As the world slowly reopens, get ready to dance again! deadmau5, the Canadian EDM dynamo, has just unveiled his "Day of the deadmau5" 2023 Tour. Buckle up for a rollercoaster ride of hard-hitting bass, enthralling visuals, and mesmerizing music that's set to spark an EDM revolution.
Sweet N Sour Magazine reveals a delightful surprise in this highly anticipated tour — a free concert in Sin City itself, Las Vegas. Promising an audio-visual feast that only deadmau5 can deliver, this Vegas concert promises to be the highlight of the 2023 music events calendar.
"deadmau5's concerts are a whirlwind of light, sound, and energy, where electrifying beats and mesmerizing visuals collide to create an unforgettable experience." – Sweet N Sour Magazine
But the thrill doesn't stop there! deadmau5 is also set to take over the vibrant city of Miami as reported here. Bringing his unique EDM stylings to the sunshine state, fans can anticipate an all-encompassing experience that marries the magic of Miami nightlife with the pulsating beats of deadmau5.
From classic hits like "Strobe," "Ghosts 'n' Stuff," and "The Veldt," to his latest groundbreaking tracks, deadmau5's tour is an unmatched musical experience for both die-hard fans and new listeners. This tour promises not just a concert, but a journey through the unparalleled sonic universe of deadmau5.
For all the beat-loving fans out there, make sure to stay updated by visiting deadmau5's official website, and following him on Twitter, Instagram, and Facebook. The "Day of the deadmau5" 2023 Tour isn't just a series of concerts, it's a testament to deadmau5's unstoppable reign in the EDM realm.
---