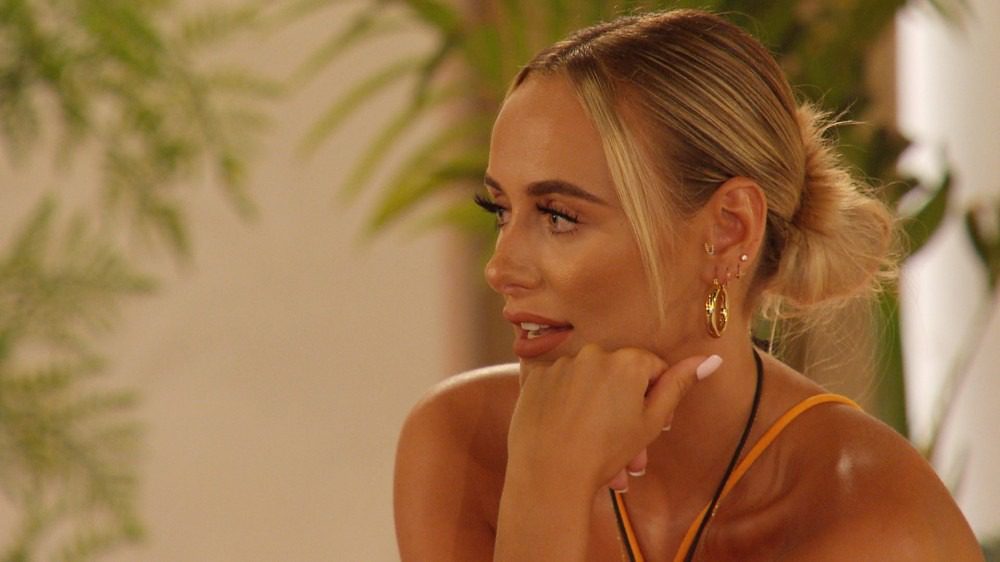 Love Island's Millie showed strength by walking away from Liam
When faced with gaslighting and manipulation, ending a relationship is tough in the best of circumstances, let alone in the Love Island villa.
Sometimes when watching reality TV, all you want to do is reach your hands through the screen and turn a contestant's head in the direction of the drama you know is imminent. As a viewer, it's uncomfortable when you've been purposefully shown more than the person you're watching and you're waiting for that penny to drop. It's something that Love Island viewers became more than familiar with last week, as we waited to see what Millie's fate would be.
Let's recap: the boys were shipped off to Casa Amor with six new bombshells, while the girls were treated to six new fellas of their own. Considered the ​"ultimate relationship test", nearly all the boys had their heads turned immediately, apart from Hugo, who was in a friendship couple, and Jake, who was officially in a relationship (but let's be honest, Jake's eyes seemed to be firmly fixed on the £50,000 prize as he avoided temptation and egged his fellow boys on). After a few days apart, it was up to the Islanders to decide if they wanted to stick with their original partner or re-couple with one of the 12 bombshells.
As the contestants gathered round for yet another dramatic recoupling, we watched as fashion buyer Millie explained why she had chosen to stay loyal to Liam during the Casa Amor switch up. While at this point we didn't know whether the Welsh bricklayer would return to the house single or not, we knew that further drama was brewing, as he'd gotten rather familiar with one of the girls in Casa Amor in their few days together. We also knew that Millie was thoroughly unprepared for the situation, thanks to manipulative choices made by the decision-makers at ITV's Love Island HQ.
Despite a big push to encourage viewers to ​"Be Kind" this year following the death of former presenter Caroline Flack in 2020, producers chose to largely omit Liam's philandering ways when it came to filling the girls in on what their other halves had been up to in Casa Amor. While they were gone, a wish-you-weren't‑here postcard was delivered to the villa with pictures of all of the boys in compromising positions (think: Toby smooching Mary and bedroom cam shots of Tyler trading nighttime kisses with Clarisse), however, although Liam had kissed Casa Amor's Lillie outside of challenges on different occasions, the card only showed them sharing a bed. Meanwhile, Teddy, who had shown loyalty to Faye by sleeping on a day bed each night, was shown to be kissing another girl during a game of truth or dare. While we can certainly question whether anyone had actually forced him to play the game, the Love Island producers pulled every string they could to convincingly frame Teddy as unfaithful to the already-doubtful Faye, while Liam got off scot-free – or so we thought.
Entering the villa single, to Millie's visible relief, Liam sauntered over to her as if he had been counting down the days until he'd see her again. Contestants who had been in Casa Amor with him squirmed in their seats throughout their reunion, but Liam himself looked set to pick up where he'd left off with Millie – until the unpicked girls from Casa Amor wandered into the villa, that is, namely Lillie, his holiday romance. Wasting not even a second of her airtime, Lillie let rip, describing her ​"real connection" with one of the boys who, lo and behold, was revealed to be Liam.
While I'd personally found Miam to be a drab couple, there was no denying that Millie had been swept off her feet and was envisioning something long-term with the Welshman. Witnessing her sob and grapple with not feeling ​"good enough" for Liam after she found out about his betrayal made for particularly painful viewing. However, after being harangued by Liam non-stop, with his boys also coming in for backup, it looked as though Millie might thaw, resigning herself to the fact that she could never know everything that happened. Thanks to the show's production puppeteers, that was nipped in the bud by a date arranged between the two ​'illies, where Lillie divulged what had happened between herself and Liam in pretty graphic detail. Understanding the depth of Liam's deceit and manipulative behaviour seemed to be, thankfully, a turning point for Millie.
When she was pulled for yet another chat by Liam, I was waiting for Millie to quibble over what she'd learned, but ultimately be swayed by the empty yet persuasive arguments from some other Islanders about how they were meant to be together. I was prepped and ready for her to be browbeaten back into a relationship with a man who was yet to offer any kind of meaningful apology since being rumbled. Thankfully, Millicent Court, First of Her Name, surprised us all in the face of Liam's unrelenting shrewd tactics to wear her down. When he asked if she saw a future with him, it was Millie's firm and unwavering ​"no" that felt most satisfying of all, with Olivia Rodrigo​'s crooning of traitor in the background providing extra seasoning. When she stood up while he was still talking, I'm certain that screens across the country promptly burst into flames.
In a season where it feels like the boys have moved with impunity, never held to account for the ways they have squandered the girls' feelings (Toby, you wait right there, we're getting you out SOON), it was so gratifying to watch Millie hold her own. It's hard enough to come to these decisions when faced with gaslighting and manipulation in the outside world, let alone on an intense game show where cameras track your every move as producers breathe down your neck – or, in Millie's case, leave you in the dark, because viewer ratings will always trump the wellbeing of contestants. Although Liam has expressed that he doesn't believe Millie's ready to walk away from their relationship and will undoubtedly continue to try to win her back, watching his sunburnt, blank face attempt to register the fact that access to Millie had been revoked was at least one gratifying moment from the whole sordid affair.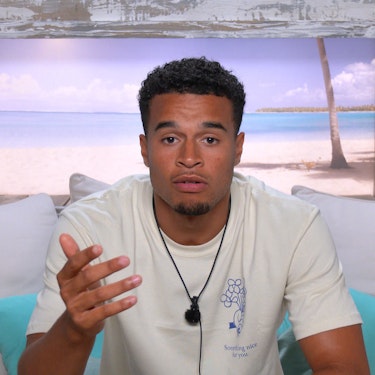 Who's giving us the ick?

Dubbed Love Island​'s ​"dumbest menace" by Twitter, Toby is back to terrorise the villa. Suddenly, he seems to have come to the realisation that, after dallying with Kaz, Chloe, Abi and Mary, he's allured once more by Chloe. At this point, we have to just sit back and watch the chaos unfold. This man is beyond help.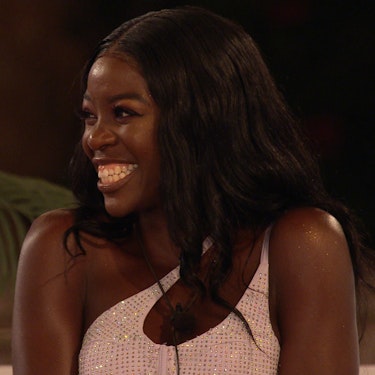 This week's type on paper

From verbally eviscerating Tyler (whose body, I'm sure, can still be located by the bean bags) to shutting down Liam's grovelling pleas to have his back with Millie, Kaz has demonstrated that, despite her bright and irrepressible demeanour, you can't take her for a dickhead. I'm going to need Kaz to retrain as a lawyer, because it's what the streets deserve.