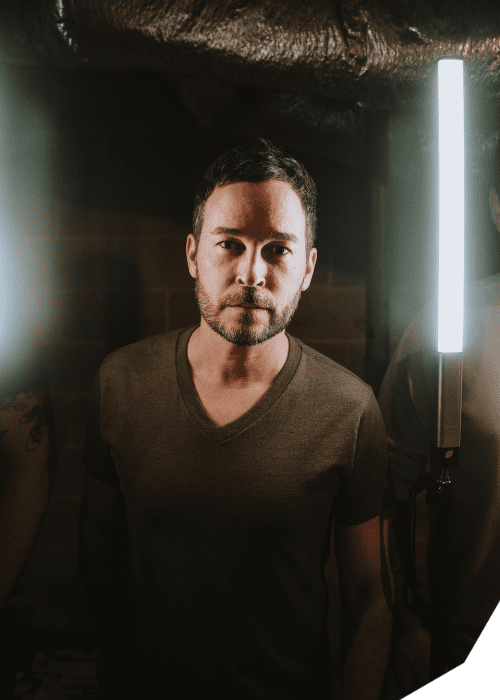 Riot for Romance Speak Of "The World And Its Weight" & "Less For Regret" From Latest EP
Multi-genre up-and-coming trio, Riot for Romance have left quite the impression with their recent releases, including a cover of Radiohead's OK Computer single "Karma Police" and the self-titled EP that delivered a groundbreaking tracklist, enlisting songs like "The World And Its Weight" and "Less For Regret." Band members; Jason Hansen (vocals, guitars, keys); Brett Miotti (bass); and Kelly Nunn (drums/guitars), have succeeded to win over the crowds thanks to their remarkable sound that incorporates Post-Punk, Shoegaze, and Alternative Rock.
Speaking of the latest EP, Riot for Romance's Hansen says: "The EP was conceived at the beginning of the pandemic, and since music is such an emotional, spiritual, and mental space for us, it was a perfect storm while being trapped at home. Thematically and lyrically, I really focused on just being human; writing so that it was more of an emotion that someone could latch on to and make it their own." He also explained that they embarked on a new creative process of writing and recording separately from three different states."
Hansen breaks down the tracks on Riot for Romance and reveals: "'The World And Its Weight' deals with the stress that the shelter at home puts on relationships of all kinds. For me, it was with my wife and kids. It was my way of saying to my wife, 'hey babe, the weight of the world is heavy right now, but no matter how hard it is there is no one else I'd rather do this with. Let's use the pressure that life is dishing out to make us like diamonds.'(I'm a romantic at heart.)"
As for "Less For Regret," he admits that it "touches on the struggles of being a parent. Relationships are tough. Being entirely responsible for another person is mind-blowing. And I don't walk away from each day feeling like a winner as a parent. Logically, I know I can't be perfect as a father, but damn I wish I could be! Sometimes I sit at night and can fall down the rabbit hole of how my actions build up or tear down my kids. The best thing I can do for them is practice loving myself in those moments, teach them with humility, and own my mistakes. Isn't that what the human experience is all about – falling down and getting back up?"
Riot for Romance was released via Steadfast Records and Friend Club Records on Feb 11, 2022. In addition to "Less For Regret" and "The World And Its Weight," the EP includes "The Dungeon," "The Darkest Space In Me," "Would Be Remiss," "Destination Somewhere," and many other loved tracks from the band. Hansen, Miotti, and Nunn are at the moment busy working on their upcoming album. They plan to drop singles from the anticipated LP in the coming months.
Listen to "Karma Police" on Spotify:
Listen to Riot For Romance below:
Check the video for "The World And Its Weight" here: