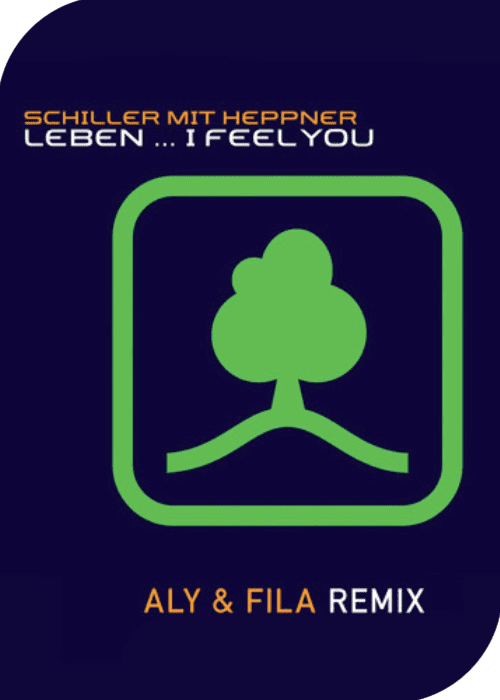 Schiller feat. Peter Heppner – Leben… I Feel You (Aly & Fila Remix)
The remix of "Leben… I Feel You" by Schiller x Peter Heppner, transformed by Aly & Fila, is now officially released and ready to thrill listeners. For over two years, this captivating remix has been a staple in Aly & Fila's performances, and the duo is thrilled to finally have the approval to share it with the world​.
ABOUT ALY & FILA:
Aly & Fila, the trance music duo from Cairo, Egypt, consists of Aly Amr Fathalah and Fadi Wassef Naguib. The pair, who have been friends since childhood, launched their music career in 1999. They quickly gained popularity with their early single "Eyes of Horus", which helped them break into the mainstream music scene. Their captivating sound, characterized by a rhythmic pulse and fast-paced beats, has drawn fans from around the world.
In 2003, they made their mark on the European market with the release of "Eye of Horus" under the German label Euphonic Records. Their music was championed by renowned DJs like Armin Van Buuren and DJ Tiesto, and their single climbed to no. 4 on the Dutch Dance charts. They continued their success with another hit, "Spirit of Ka", released under Offshore Music.
Moreover, in 2023, Aly & Fila are maintaining their momentum, captivating audiences on their international tour. Their upcoming performances include several concerts in Spain and a final year-end performance in Berlin, Germany​.
Upcoming Aly & Fila Tour Dates:
| | |
| --- | --- |
| Jun 24: | Biggest Festival, Punchestown Racecourse, Nass, Co Kildare, Ireland |
| Jun 25: | Luminosity Beach Festival, Beachclub Bernies, Zandvoort, The Netherlands |
| Jun 30: | FSOE The Club, Colosseum, Jakarta, Indonesia |
| Jul 06: | Shine, Eden, Ibiza |
| Jul 20: | Shine, Eden, Ibiza |
| Jul 21: | FSOE Stage, Sunrise Festival, Kolobrzeg, Poland |
| Jul 22: | Summer Sound Festival, Helsinki, Finland |
| Aug 03: | Shine, Eden, Ibiza |
| Aug 05: | Untold Festival, Cluj-Napoca, Romania |
| Aug 12: | E Lake Festival, Echternach, Luxembourg |
| Aug 27: | Creamfields, Daresbury, England |
| Sep 21: | Shine, Eden, Ibiza |
| Sep 22: | Slinky, 02 Academy, Bournemouth, England |
| Sep 30: | Rong Indoor Festival, Victoria Warehouse, Manchester, UK |
| Oct 20: | This is Trance, Panama, Amsterdam, The Netherlands |
| Dec 16: | Vandit Night, Kesselhaus, Berlin, Germany |
ALY & FILA – EDGE OF TOMORROW
In addition to all this, we must remember: "Edge of Tomorrow" by Aly & Fila, in collaboration with Chapter 47 and Richard Bedford, an enchanting track that has been captivating listeners since its initial tease in Aly & Fila's live sets at Ultra Music Festival in 2022. The song – particularly noted for featuring the stunning vocals of Richard Bedford, adding an additional layer of depth and richness to the already impressive composition​1​
Listeners have been captivated by the song's evocative and uplifting nature, reminiscent of earlier works in the genre. The track's mesmerizing sound has been described as 'chill-inducing', making it eagerly awaited by fans since its first introduction​2​. Furthermore, its quality and execution have been lauded by listeners, with one even exclaiming, "Holy Jesus, this is good"​2​.
Overall, "Edge of Tomorrow" is a testament to Aly & Fila's ability to craft riveting trance compositions that resonate deeply with their audience. It is a compelling release that showcases their musicality and understanding of the genre, making it an anticipated feature on their forthcoming album.
Aly & Fila's "Edge of Tomorrow" already sits at 250K + streams on Spotify, officially released on March 3, 2023. Stream here and for all trance music news read here: