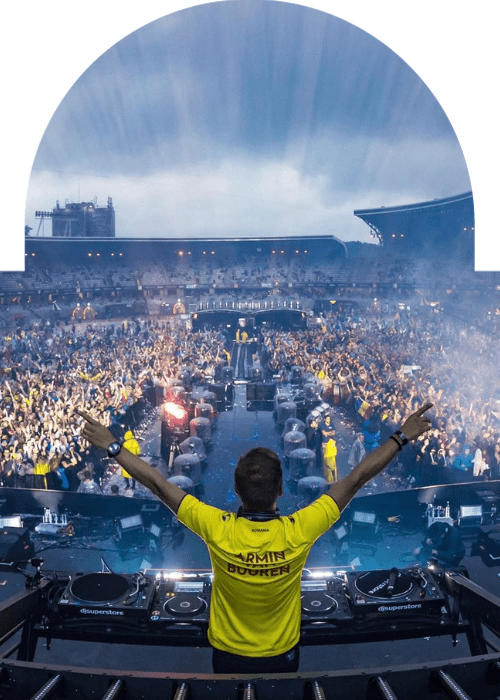 Armin Van Buuren Returning At UNTOLD Festival In 2023
Armin van Buuren is one of the most well-liked DJs on the lineup of the UNTOLD Festival, and he'll be back there the following year. The Dutch musician returns to his soul festival, as he has frequently indicated, and his interaction with the UNTOLD audience is unusual. After a three-year sabbatical, he will return to the heart of Transylvania in 2023, and he assures that his performance will be spectacular.
From the inaugural UNTOLD Festival in 2015 to the fifth, in 2019, Armin van Buuren attended. His sets became longer every year, and during the anniversary edition in 2019, he performed a historically significant show exclusively for the UNTOLD Festival that lasted seven and a half hours. The Romanian song "Deșteaptă-te Române," played at the time by the Cluj-Napoca members of the Romanian National Opera Orchestra, opened the performer's set.
Every time he performed live at Cluj-Arena, Armin van Buuren, who has been ranked among the top five DJs in the world for 21 years running, was able to forge a unique bond with the festival's attendees. He is the author of one of UNTOLD's most exquisite chapters, and he is also an artist.
The Romania-loving Dutch artist is one of the most devoted figures in the electronic music community, and the UNTOLD fans adore the DJ who elevated the live festival set to a new level. With a law degree, Armin van Buuren entered the music business and is currently the top-rated trance DJ in the official DJ Mag Top 100. His career is spectacular; he has been the main act at the largest music festivals in the world for more than 21 years.
He received a Grammy nomination for Best Dance Song, has won 27 titles at the International Dance Music Awards and 12 DJ Awards, and his weekly radio program, A State Of Trance, has over 45 million listeners. He is the subject of the 2019 book "Armin Only," written by Coen Bom, and the recipient of the "Buma Cultuur Pop Award," one of the highest honors in the Netherlands.