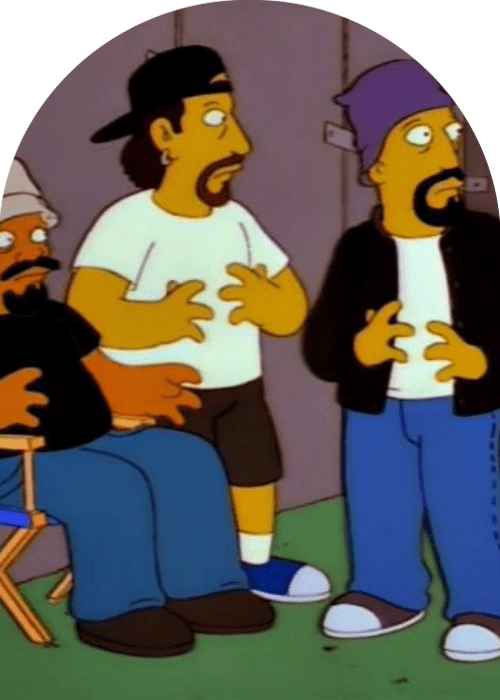 Cypress Hill Doing "Simpsons" Joke By London Orchestra Show
Hip-hop group Cypress Hill has announced plans to collaborate with the London Symphony Orchestra, after a joke made in a 1996 episode of The Simpsons. The episode, titled Homerpalooza, features the group making a cameo at the Hullabalooza music festival, where they are accused of booking the orchestra to perform with them while under the influence of drugs. The joke led to calls for the two acts to collaborate on a classical version of Cypress Hill's hit song "Insane in the Brain." Now, Cypress Hill hope to make the collaboration a reality to celebrate the 30th anniversary of their 1993 album "Black Sunday."
Cypress Hill made the announcement on Instagram, following news that they will be playing the "Black Sunday" album in its entirety at a concert in Denver in July. The group thanked The Simpsons for inspiring the collaboration, but no further details about the London concert have been released.
The Simpsons has a long history of featuring famous musicians in cameo roles, with artists such as Paul McCartney, Michael Jackson, and Lady Gaga all appearing on the show. The Cypress Hill cameo in Homerpalooza was particularly memorable, as it showcased the group's unique brand of rap to a wider audience.
Cypress Hill released their 10th studio album, "Back in Black," last year. The group has been active since the late 1980s and is known for its socially conscious lyrics and distinctive sound, which blends hip-hop with elements of rock and funk. The group has had a string of hits over the years, including "How I Could Just Kill a Man," "Insane in the Brain," and "Rock Superstar."
The collaboration with the London Symphony Orchestra will be a unique opportunity for Cypress Hill to showcase their music in a new and innovative way. The group has always been known for pushing boundaries and experimenting with different styles, and this collaboration is sure to be no exception. Fans of both Cypress Hill and classical music will no doubt be eagerly anticipating the concert, which promises to be a truly unforgettable experience.