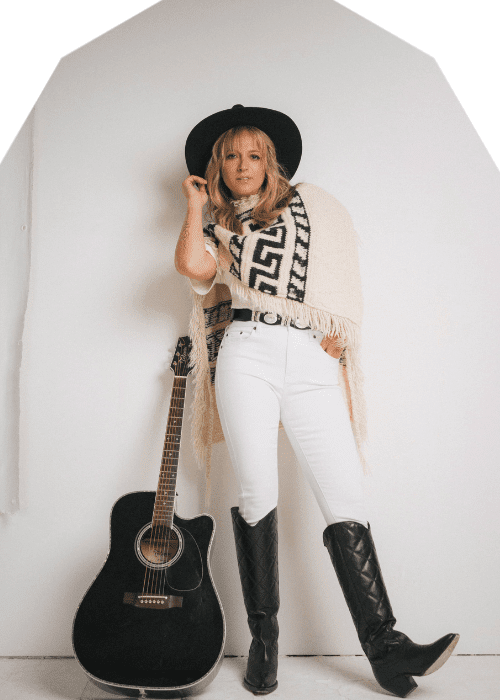 Exclusive Interview With Talented Singer-Songwriter Jessie Haines
We are delighted to have the amazing opportunity of interviewing one of the most talented artists out there, Jessie Haines, a New York based musician who just dropped her new emotional single called "The Way You Kiss." The artist has a unique background and journey in music, and we wanted to know all about it, so here's our exclusive interview with Jessie Haines!
Your latest release "The Way You Kiss" carries such a deep emotional expression. Could you tell us about the process you experienced when writing the song?
"The Way You Kiss" popped into my head on a long drive back from a hiking trip in the mountains. I was driving, and suddenly the entire song was in my head..melody lyrics..the whole thing. I was singing along to it as though it was already on the radio, but it only existed at that point in my head! I was so nervous I would forget it that I kept it on a repeat loop in my head until I could get back to my guitar and lay it down. "The Way You Kiss" is about that all-consuming feeling you get when you are in the beginning of a new relationship…it's almost like everything spins..you're dizzy with lust.
How did you develop your style throughout your career?
When I was 17, my dad brought a guitar home one day and I picked it up. Without any lessons, I taught myself how to play by learning Beatles tunes…then, before I knew it..I was writing my first few songs.. I quickly learned I had words within me that needed to be sung. But first, I had to learn to sing. My first few songs were in the acoustic folk genre. My style was compared to Joni Mitchell.. I was really into what Michelle Branch was doing at that time, and she was a big inspiration for me in how she melded a singer/songwriter and country vibe, with pop music. I see her as a pioneer in country crossover, although she wasn't called a country artist at the time. As I grew and progressed as a musician, I wrote in a variety of genres, but it never felt like home. Now, I write from a voice within me that comes out as country / pop. This genre is an extension of me.
Who would be some of your biggest musical and non-musical inspirations?
I would say my main musical inspirations are the greats of the 70s..most importantly, Fleetwood Mac, The Allman Brothers and The Eagles….all 3 of those bands meld country and blues, with soul and what was pop back then. You can't plan to weave in those ingredients…its something that just is. It just happens. I feel my music wasn't planned to be a particular way, but was determined to come out that way. I especially know you will hear those influences in the songs on my full album.
My modern heros would have to be Alicia Keys for her songwriting, vocals, production and her positive empowering message…as well as Maren Morris…I think Maren is one of the most talented female country artists of our time for sure, and she's been a great inspiration for what can be done with modern country music.
What would be your dream venue to perform at?
My hometown backyard…The Garden! ( That's Madison Square Garden ).
How did ventures outside of music help your musical process?
My own personal journey has influenced my musical process in all ways. I would never be where I am today…and in the position to speak into the hearts of others who are on their own healing journey, if it were not for my own (healing) path. Some would call them detours…but for me…the lessons I learned from the way I got here are critical to my messaging today, about sexuality, emotional abuse, trauma, and healing. You may not know exactly what I'm talking about yet..but as we get to know each other better..you will.
What do you look forward to in the coming years?
I look forward to connecting with as many hearts and souls as possible through my music. I know what it's like to be inspired to know, love, and accept yourself fully. And to show up!!! I want to pay it forward. I want others to feel safe to honor themselves at all times in all ways, no matter what the circumstance…and I'm looking forward to stomping boots on some of the biggest stages in the world!
What kind of musical legacy are you planning on leaving?
I'd like people to know me as a songwriter who writes honest music that people can see themselves in, connect with and feel deeply..and hopefully….my music and journey can stir a deeper belief that there is something special inside of them, provide healing, and inspiration.
Connect with Jessie Haines on: Instagram – TikTok – Facebook – Spotify