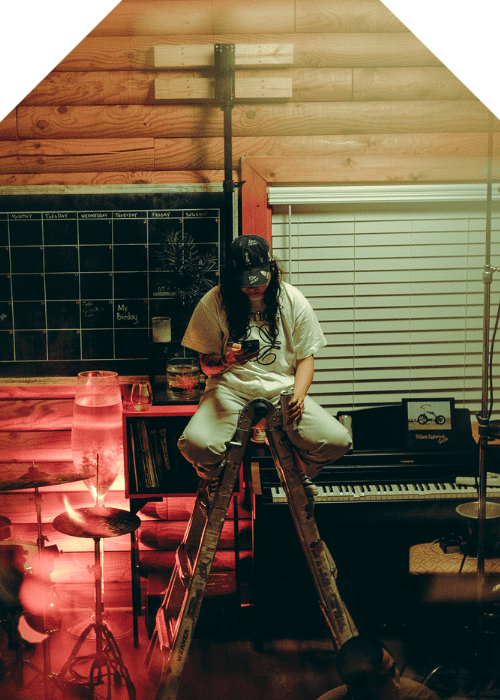 Forgetmyname Unveils Nostalgic Synths & Dreamlike Passions In Latest Single "Nightfall"
Versatile singer and songwriter, Forgetmyname's latest release, "Nightfall," captures a nostalgic essence and creates an electric sound through its synth-heavy arrangement and reminiscent lyrics. The transformative moment that inspired the track relates to the previous single "Gasoline," with the new song representing a cycle that was being avoided.
During our interview, Forgetmyname, also known as Nicole, shared that the goal of "Nightfall" is to transport listeners to a dreamlike state where consequences hold no weight. The song effectively captures the intricate emotions of intense passion and nostalgia within a relationship by intertwining moments of argument, tears, commitment, and leaving.
The forthcoming music video for "Nightfall," directed and shot by Ryan Pham, was filmed in New York and aims to further connect the audience with the song. The single reflects Forgetmyname's pursuit of emotional depth and aims to help listeners find their own connection and understanding of their feelings.
See the full interview below.
How did you capture the nostalgic essence and create an electric sound in your new track "Nightfall"?
The idea was to make it as nostalgic and synth heavy as possible. The lyrics being so reminiscent on top of the drum and synths really made it come together.
Can you tell us more about the transformative moment that inspired the creation of "Nightfall" and how it relates to your previous single "Gasoline"?
"Nightfall" is this cycle that I was running away from in "Gasoline." With "Gasoline" there is a lot more self-awareness whereas in "Nightfall" you almost don't care about the consequences, just this dreamlike state where nothing really matters.
"Nightfall" resembles a subdued rendition, reminiscent of a softer interpretation of Kavinsky's take on London Grammar's "Nightcall." What specific set of emotions did you aim to convey through its music and lyrics?
I wanted something to drive late nights to that sounded timeless. I didn't aim for any specific emotions. really, everyone will make it their own, find their own story in it, which I love.
The song explores the delicate nature and intricate emotions within a relationship. Could you share your process for capturing these dynamics and conveying the mix of intense passion and nostalgia?
Yea for sure, I think throughout the song all these things are happening arguing/ crying/staying/leaving, and when the chorus hits all of that doesn't really matter, because all this passion or holding on to whatever it is that keeps you there feels reminiscent. No matter how lost you are next to them, you choose that feeling over anything.
The lyrics play a vital role in shaping the song's aesthetic. Could you elaborate on your decision-making process for selecting particular descriptive words that enhance the overall experience?
They were honestly all random thoughts I've had in the past two years. I would write things down, whenever I had something in mind, so I had at least most of the verses and bridge ready before we even decided to do the song.
Can you give us a sneak peek or share any details about the forthcoming music video for "Nightfall?
Super excited for it! We just finished filming it in New York, so I feel like the audience will really connect with the song more. My good friend, Ryan Pham, directed and shot this one as well, and it was really cool bringing the song to life visually with him.
How does "Nightfall" reflect your pursuit of emotional depth and connection with your audience?
I just hope they enjoy it and can make it their own really. If I can in some way help someone find the words to how they're feeling that's the best connection to have.
Listen to "Nightfall" here: