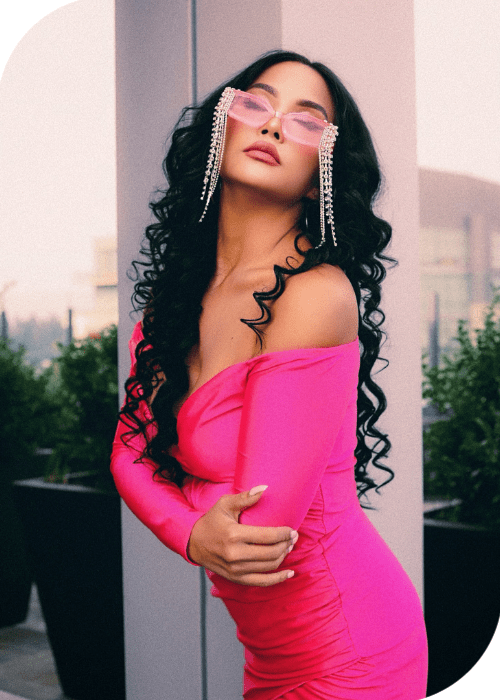 Inside Roskamala 's "Out Of The Maze": An Interview On Self-Acceptance And Identity 
Pop's emerging diva, Roskamala, explores feeling like an outsider and disconnected from society in her latest song, "Out Of The Maze." The versatile singer and songwriter offers valuable advice to her younger fans who struggle with similar emotions, telling them to look inward and strive to become the best version of themselves. By staying true to who they are, they can attract like-minded people who will make them feel included and accepted.
In the accompanying music video for her latest single, the artist delves into the concept of embracing diverse identities within oneself. The visuals highlight the significance of maintaining a balance between the real world and the doubts that arise in one's mind. Roskamala mentions the importance of staying grounded in reality and not taking all thoughts too seriously.
Roskamala's much-anticipated EP, Lies She Told, serves as a continuation of her previous release, Truth She Told, while delving into new narratives. With a shift towards more uplifting and upbeat compositions, the songs reflect a profound acceptance of imperfections. This record aims to inspire a positive mindset, emphasizing that by focusing on the brighter side of life, people can effectively address and solve half of their problems.
"Out Of The Maze" symbolizes the feeling of being an outsider and experiencing a sense of detachment from society. What guidance would you offer to young individuals grappling with similar emotions?
I put a lot of effort into every detail of this song for the audience. I wish that younger people or even adults like me who watch and listen to the song can ease the feelings of "I don't feel like I belong," whether at home or in society. Everything starts from within. Be the best version of yourself and you'll be surprised how you attract the right people who will make you feel included and accepted. Be true to yourself and rejections are just a part of life. Don't overthink it.
The latest video conveys a profound message about the coexistence of diverse identities within an individual, manifested through various characters residing in a single house. How do you navigate the balance between these personalities?
In my opinion, people have two worlds; true reality and the thoughts you create in your own head. In the music video, the reality is the robot, and the rest of the characters are my perceptions of myself being a human. For me to balance both worlds, I do my best every day to stay in reality ( Facts ) and not take all of my thoughts seriously, which is a task I have to work on everyday. I have mental issues, bipolar and borderline personality disorder that create a lot of negative thoughts a million times a day. Sometimes I find it funny that if I have to be honest about my career, it is mainly dealing with my thoughts; it's probably my full-time job.
During your journey of self-discovery regarding your sexuality, you previously mentioned encountering difficulties and experiencing exclusion. The weight of these opinions, criticizing your true identity, undoubtedly caused you pain. Do you believe these experiences have left lasting scars, or have you managed to overcome and grow from them?
It 100% affects my life. I have two options, number one is to whine and cry about it as a victim or number two I can get up and take action. The action I took is using my scars to create art to help other people who are struggling with the same issues. We should feel heard and seen. People like us need to stick together, and know that we are never alone. We got this.
Tell us about your background in Bangkok, Thailand, and the decision to move to South Florida. How has this relocation affected your life and career?
I was considered a spoiled brat at home. I came from a comfortable family where I didn't know what the real world was. To make it sound pretty, I would say I moved here to follow my dreams. But if I have to be honest, I moved here because I had to move due to my big bad decision I made and thanks to life that brought me here. I've found a perfect place to produce music the way I wanted, which I wouldn't be able to do in Thailand. I have way less friends and family here, but I feel more like home, because I'm surrounded by beautiful souls here in the United States.
Your career has involved engaging in various domains of the entertainment industry, including singing, music production, TV hosting, acting, and modeling. How do you use these different facets in your creative pursuits, and which roles resonate with you the most?
I have been wearing many hats in my life. I enjoy doing all of those you mentioned. And working on many roles gives me a deep understanding of the job. It helps me write better, manage better, and work with the team better. And if I have to choose the roles that resonate with me the most, they would be songwriting and singing.
As someone who appreciates the freedom of artistic expression and cherishes daily accomplishments, how do you ensure that you maintain gratitude for the experiences and opportunities that come your way, even in the face of pressure and obstacles?
Pressure and obstacles are big parts of change and pursuing your dreams, it's inevitable. My strategy is to appreciate every little thing that happens to me every day like looking at the ducks, smiling at strangers, or even singing in the shower. These little things are my happiness. And yes, some days it's harder to be grateful, I usually go back and look at my gratitude journal and make sure I get up every time I feel like falling. Because quitting is not an option for me.
Could you provide some insights on your upcoming EP, Lies She Told? How will it compare and contrast to your previous release, Truth She Told? Is it intended as a sequel, or will it introduce a completely new musical style and thematic approach?
Lies She Told is a sequel but tells different stories from Truth She Told. The songs will be more uplifting and upbeat. I chose the word "Lies," because it is necessary to be honest in a positive way. Basically, it means "fake it until you make it." The first EP was about self-awareness. If you have that kind of consciousness, half of your problems are fixed. The next EP is about accepting and laughing about imperfections. You can solve 50% of your problems by looking at the silver lining.
Watch the music video for "Out Of The Maze" below:
Listen to "Out Of The Maze" on Spotify: