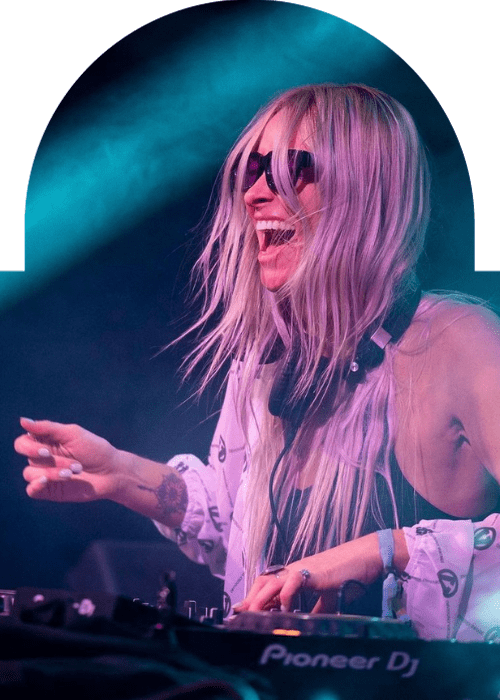 Maddy O'Neal & Underlux "Here's to You" A Bass Collaboration
Maddy O'Neal is a rising star in the electronic music scene, known for her blend of hip-hop, funk and soul influences. Her latest release, "Here's To You", is a collaboration with Underlux, a fellow producer and vocalist from Denver. The track is a tribute to their friendship and musical journey, as well as a celebration of life and gratitude.
The song starts with a catchy guitar riff and Underlux's smooth vocals, setting the tone for a feel-good anthem. The chorus then drops into a groovy bassline and glitchy synths, creating a contrast between the organic and the digital elements. The lyrics are uplifting and inspiring, reflecting on the challenges and joys of pursuing one's passion. The track is part of Maddy O'Neal's upcoming album, The Rush, which will be released on Super Best Records later this year.
Maddy O'Neal has been making waves in the industry since her debut in 2016. She has performed at major festivals such as Electric Forest, Camp Bisco and Sonic Bloom, and shared the stage with artists like Pretty Lights, Big Gigantic and The Floozies. She has also received support from publications like Billboard, Magnetic Magazine and EDM.com. Her sound is unique and versatile, ranging from downtempo beats to upbeat bangers. She is constantly evolving and experimenting with new styles and genres, while staying true to her roots and vision.
Underlux is a multi-talented artist who can sing, rap and produce. He has been working with Maddy O'Neal for several years, providing vocals and co-production for some of her tracks. He has also released his own solo projects, such as The Underlux EP in 2019 and The Underlux LP in 2020. His music is influenced by hip-hop, R&B, pop and electronic music, creating a fusion of sounds that is fresh and original. He is also a member of the collective The Mile High Sound Movement, which showcases some of the best talent from Colorado.
"Here's To You" is a testament to the chemistry and creativity of Maddy O'Neal and Underlux. It is a song that will make you smile, dance and appreciate the moment. It is a song that celebrates their friendship and their music. And it is a song that invites you to join them in their journey.
You can listen to "Here's To You" on Spotify, SoundCloud or YouTube. You can also follow Maddy O'Neal and Underlux on their social media platforms to stay updated on their latest news and releases.