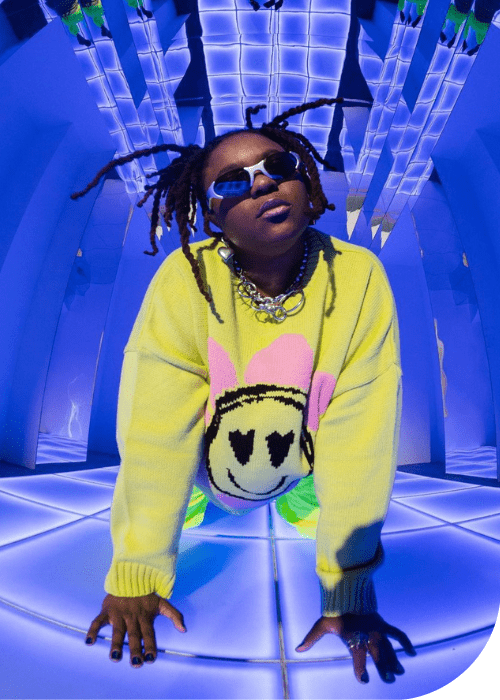 Kaleena Zanders' "Patchwork" A '90s House Music Tribute
If you're looking for a dose of nostalgia and happiness, look no further than Kaleena Zanders' new EP, "Patchwork". The singer-songwriter, DJ and EDM.com Class of 2022 star has delivered a stunning tribute to the classic '90s house sound, drawing inspiration from the many influential Black vocalists of the era.
The five-track EP, released on Helix Records, is a fun and lighthearted record that aims to bring joy and relief to listeners. With its piano-driven house tunes, uplifting vocals and club-ready sound, "Patchwork" is a perfect soundtrack for any dancefloor.
Tracklist
in YOUR EYES: The EP kicks off with a catchy and energetic track that showcases Zanders' powerful voice and infectious energy. The track features a bouncy piano melody, a groovy bassline and a catchy chorus that will make you want to sing along.
V I B R A T I O N (with Shift K3Y): The second track is a collaboration with UK producer Shift K3Y, who adds his signature touch of garage and bass to the mix. The track is a euphoric anthem that combines Zanders' soulful vocals with a pulsing beat and a soaring synth melody.
ON THE WALL: The third track takes us into a deeper and darker sonic territory, perfectly suited for underground dancefloors. The track features a hypnotic vocal loop, a thumping kick drum and a sinister synth riff that creates a tense and mysterious atmosphere.
Real Love: The fourth track is a soulful and uplifting tune that celebrates the power of love. The track features a smooth piano chord progression, a funky guitar riff and Zanders' heartfelt vocals that express her desire for real love.
ME WITHOUT U (with Party Pupils): The final track is another collaboration, this time with LA duo Party Pupils, who bring their funky and disco-inspired sound to the table. The track is a bittersweet and catchy tune that explores the feeling of missing someone. The track features a catchy vocal hook, a funky bassline and a disco-infused beat that will make you want to dance.
About Kaleena Zanders
Kaleena Zanders is a singer-songwriter, DJ and rising star in the dance music scene. She has collaborated with some of the biggest names in the industry, such as SNBRN, AC Slater, Morgan Page and more. She has also performed at some of the most prestigious festivals and venues around the world, such as Coachella, EDC Las Vegas, Red Rocks and more.
Zanders is known for her powerful vocals, versatile style and positive message. She draws inspiration from various genres and influences, such as house, pop, R&B, soul and more. She aims to spread joy and positivity through her music and connect with her fans on an emotional level.
Zanders is also an advocate for diversity and inclusion in the dance music scene. She is proud of her Black and Latinx heritage and uses her platform to amplify the voices of marginalized communities. She is also an outspoken supporter of LGBTQ+ rights and mental health awareness.
Zanders is currently working on new music and projects that will showcase her talent and passion. She is also planning to tour again once it is safe to do so. She hopes to inspire people with her music and make them feel happy and empowered.
You can follow Kaleena Zanders on Facebook, Twitter, Instagram and Spotify.