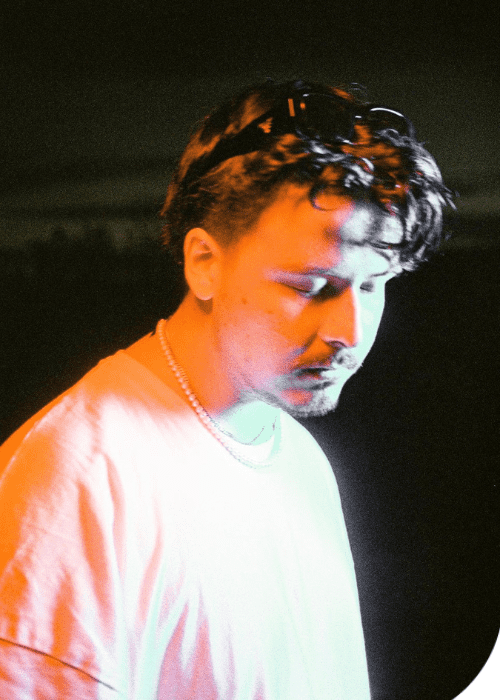 AVAION: Breaking Boundaries with "Another Song to Myself"
AVAION, the talented DJ and producer, has been making a significant impact on the electronic music scene with his latest release, "Another Song to Myself." With a distinct sound that seamlessly blends futuristic basslines and uplifting beats, AVAION has captivated audiences and garnered a rapidly expanding fan base.
His ability to evoke deep emotions through his music sets him apart from the crowd, leaving listeners craving more. In a recent interview, we had the privilege of sitting down with AVAION to delve into his creative process and the story behind his pumping new single.
Sweet+Sour: In your latest release, "Another Song To Myself," you demonstrate a continued evolution of your musical style by partnering with pop-rock band Picture This. What can listeners look forward to experiencing in this new track? Will there be a music video accompanying the single?
AVAION: This is a really special release for me because I experimented a lot with the sound design and pushed myself out of my musical comfort zone. The feedback from the listeners is crazy. Some people told me that they think this is my best track yet. This pushed me so much to keep on expanding my sound profile and experimenting a lot more! I hope we will do a music video for this version, but I guess it depends on how successful the song will get. Stay tuned.
Sweet+Sour: In keeping with the theme of inner dialogue on "Another Song To Myself," having carved a career in the music industry over the past years, what message or advice would you give to your previous self just about to embark on a music career?
AVAION: I'd tell myself to more focus on taking care of my mental health. As well as less comparison of myself to others and where they're at in their journey.
Sweet+Sour: Given your remarkable fusion of genres like dubstep, drum & bass, and electronica, could you provide insights into your approach to blending beats, organic elements, and soulful vocals? We're intrigued by your process of mixing and matching these musical elements.
AVAION: I always loved blending different genres together and experimenting with sound. My music taste was always been like patchwork but the love for electronic music combined with melancholic vocals was the leading part that brought me to the style that I produce and perform today.
Sweet+Sour: Your single "Pieces," marks a before and an after in your career, garnering millions of streams and achieving platinum and gold status in multiple countries. Can you tell us more about the track and how it has transformed your life?
AVAION: I made this song in 2018 at a depressing point in my life. I wanted to change something. I felt like I was falling into pieces. I took this emotion and combined it with a new way of melancholic deep house. This is how Pieces was born and it actually changed my life for the better. It was the start of my own genre and people started recognizing my art and style. I gained a lot of streams out of it, and it also pushed me as an artist with my other songs that followed. I'm so proud and thankful for all the impact that this song has and I'm ready to keep the story going.
Sweet+Sour: As an artist proficient in crafting both danceable beats and atmospheric, melancholic sounds, what specific emotions or experiences serve as inspiration for your compositions?
AVAION: I just always liked listening to songs that are danceable but also super melancholic. I fell in love with this kind of vibe so it's easy for me to catch up with this feeling. My biggest inspiration is life itself, my mood, or the whole story that I want to tell with my art based on my experiences.
Sweet+Sour: Could you recount a notable instance where your spontaneous approach resulted in a particularly significant or pleasantly surprising outcome in one of your songs?
AVAION: Actually, when I made Pieces, the lead synth is originally the bass synth. I was dragging the lead melody in the bass lane by accident, and it turned out to match perfectly. That's how I made the synth lead sound for Pieces and it's one of the strongest components of the song.
Sweet+Sour: From humble beginnings in Germany, you have managed to quickly amass a dedicated global fan base. What do you think it is about your music that strikes a chord with listeners on such a wide scale? What unique qualities do you believe differentiate you from other artists in the electronic music scene?
AVAION: I think the most special part about my music is that every listener can write their own story with my music. I always leave space for listeners to interpret it to how they're feeling. Some people write me messages about how they see my music as breakup therapy. Some
people tell me it's their love song with their new partner. That's exactly what I want with my art. People should live their own stories with the song. I think it's also special that I sing my own songs as well. It's another intimate part that I can add to the song that most other producers can't.
Sweet+Sour: Later in the year we can expect an EP from you. How are you finding the process of creating a flowing body of work compared to stand-alone singles? Will you be inviting collaborators to the EP?
AVAION: It's a very special thing for me to release a bunch of songs at the same time. Until now I always released singles and it's super motivating for me to create this EP and the story behind it. I'm planning to do some guest collaborations on the EP with people who I really admire and enjoy listening to myself. I can't wait to present it to the world!
Sweet+Sour: With summer on the horizon, excitement is building as festivals and live performances gear up for the season. We'd love to hear about any upcoming festival appearances you have planned, and what your fans can look forward to experiencing during your electrifying live shows.
AVAION: I'm going to play some huge Festivals this year such as SonneMondSterne, Parookaville, Nature One, and Open Beatz. It's always the best feeling to perform my own songs live and I want to give people an experience that they would never forget.