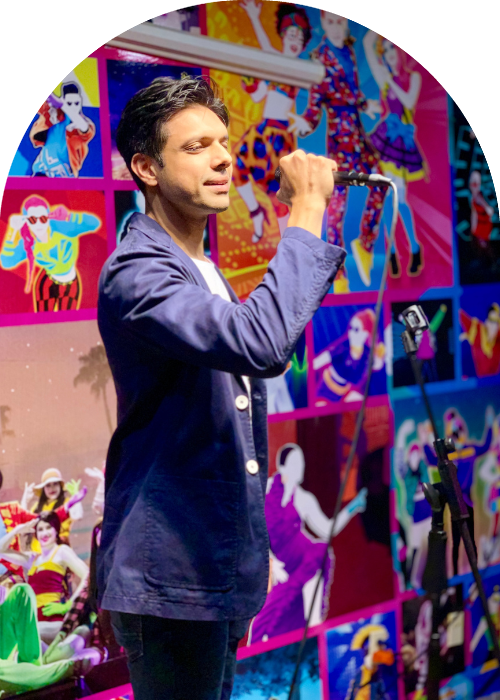 Mohammed Paika Shares Thoughts On "Love" And More
Powerful artist Mohammed Paika shares thoughts on his latest creations and future plans in an interview with SweetnSour magazine! The singer-songwriter has recently released "Love" song and music video that reached over 1,7 million views in a week, becoming a huge success, at the same time professing the incredible feeling of true love. Mohammed Paika is not only a recording artist but also a physician and an entrepreneur, who was able to establish his own record label with the aim of helping raise local and international artists. Paika first started exploring his musical skills while being a member of the Silent Thunder Band with whom he has released the spiritual acapella album Sounds of Reverence in 2003. Numerous singles and albums later, he is still in the game with a positively affirming message and much to share. Global audiences in the hundreds of thousands love Paika's sincere music, and we're here to discuss it today!
We got to listen to "Love", and really enjoyed this track of yours! How does it feel to have over 1,5 million views on such a pure and sweet music video?
It feels wonderful!! I'm quite happy that "Love" has received so much attention and positive reactions. "Love" is very close to my heart because the song was filmed in the city that my wife and I were married in and where we first started our life together. For the video shoot, our trip was focused on reflecting our passion for each other and re-exploring some of the iconic spots in Albuquerque which include areas of Old Town as well as the famous Sandia Peak Tramway. Since Albuquerque has an upbeat and vibrant Native American culture, I wanted the music to have a "folk" element and also be "catchy". I feel blessed to have my wife be part of this song.
Which one of your albums would you say is your favourite and why?
One of my favourite albums is "Unity", which is an album with 13 tracks, which honestly is far ahead of its time. The song "So many divisions" speaks about the various sects within the Islamic religion and alludes that all religions essentially believe in the same God. The prime focus of the song is to enlighten humanity towards unification. "So Many Divisions" has won the best music video award at the New York Film Awards and also The Peace Award at the California Music Video Awards in addition to numerous other awards and nominations. "O My Nation", another song from the album is completely devoted to opposing radicalism, ISIS and fellow travellers, through the strength and beauty of the true spirit of Islam. "Oh My Nation" has won Best Music Video at the Festigious International Film Festival, and was officially selected at the Global Film Festival Awards.
Have you ever been interested in experimenting with other genres or themes in your art? If so, what would you like to try next?
I am currently experiencing it as we speak. My latest set of forthcoming songs will be more pop and r&b-based. I want to continue to spread a positive message through my songs, no matter what the genre or style I'm singing for.
Looking back at your childhood and adolescence years, when do you think your passion for music revealed itself? Since then, what has music become for you?
I started my musical journey quite young. I consider myself lucky to have come from a musical family. My uncle was a stage singer and performer, and my brothers also have a keen interest in singing and performing. Hearing music around my house and family and being exposed to the joy of music from an early age made it easy and natural to love and learn music and singing. At home, my brothers and I had an incredible collection of songs. When I was 12 or 13 years old, I was fascinated with singing. I learned about other singers and styles of singing and incorporated them into my style. When I was in undergrad, I learned classical Islamic quranic chanting, which helped diversify my singing style and develop my voice. Though music had been a passion since I was young, I realised I wanted to pursue it when I saw a lack of spiritual based songs in the current music scene. I wanted to address issues which no one would sing about, but which resonate in every heart.
Name some artists that have greatly influenced your style.
I've been inspired by both Eastern and Western musical and vocal influences over time such as Frank Sinatra, Elvis Presley, Michael Jackson, Ahmad bin Ali Al-Ajmi, Mohammed Rafi, Kishore Kumar, Fairuz etc.
A recording artist, entrepreneur, a board-certified physician – how do you manage to juggle all these ventures, while at the same time remaining true to yourself and your goals?
It's challenging but I manage to make time. I do a lot of my recording from my home recording studio which makes it quite easy for me. It cuts scheduling and travel time and also allows me to spend more time focusing on my task at hand. I have to be very proactive when I work on a project with other artists, musicians, lyricists and videographers who sometimes live in different parts of the world. I usually allocate a specific amount of time for my hospital related work and when I am not at the hospital then I'm essentially an entrepreneur and recording artist. Whatever it may be, I make it a point to put my heart and soul into each project.
As a veteran artist, what would be your number one advice to someone just starting out in the music business?
Keep doing what you do! It's not about fame or money. The true essence of music lies in its ability to enhance and influence other people's lives in a positive way. If you love what you do and share it with others, you can create a circle of inspiration that positively affects everyone around you!