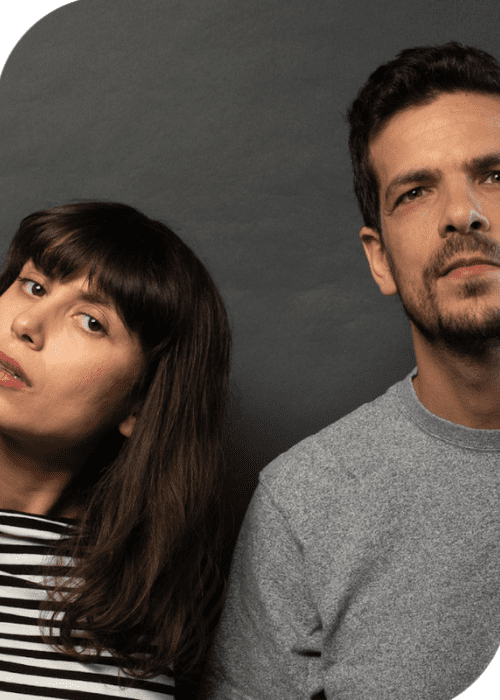 "ROLLING STONE" DUO BILL & MURRAY DISCUSS THEIR NEW SINGLE AND OPEN UP ABOUT MENTAL & EMOTIONAL EXHAUSTION
The duo from Tel-Aviv had an in-depth chat with us about their most recent release "Rolling Stone" and the feedback they received from the public. Bill & Murray come clean on what it's like growing up in a conflict area and how they use music to deal with the regional political issues and everything else that affects negatively in life.
It's been a month since the release of your new single "Rolling Stone." What are your thoughts and feelings on how it is being received? Have you had any feedback from your musician friends? Do you ask for their opinions before sharing new songs ?
We're feeling good so far, people seem to be connecting to the song and that's always an exciting thing for us. Our musician friends also seemed to like it or were too polite to say otherwise . These days we don't really ask much for their opinions, we used to in the start but it's easy to get lost that way, we try to stick to just creating something we'd like to hear.
You've mentioned before that "Rolling Stone" is about not knowing who you are and what you stand for! What kind of experience led you to write a song about identity crisis? Can you share them with us?
I don't think we can point to a specific experience that led us to it. It's more of a "general feeling" kind of thing. Something to ponder about once in a while.
Do you have any upcoming surprises for your fans? Like a music video for "Rolling Stone" perhaps?
No video planned at the moment but we are about to release some more music later this year, this time with a video as well.
Let's talk about your new sound! Why did you decide to step back from the '80s synth-pop genre? And what kind of genres would you like to experiment with?
On our first record we use a very old kawai keyboard in a very dominant way, just because we found the sound it produces to be very atmospheric, and it gave the record a very 80's synth vibe. In this upcoming record we want more of a diverse sound and we approach each song in a new way, just trying to find what makes the song shine the brightest.
Surely, you've been working on new material! Can you give us some details about it? When shall we expect it to be released?
Yes, we have been working on new material over the last 2 years or so. We're loving the process and we're loving the outcome so far. We hope to be releasing some of it over the next few months.
You've toured around the world traveling all the way to Eastern Europe! What are your favorite places to visit and perform? Do you have any new tours planned for the future?
It was all great fun. In eastern Europe the hospitality is very pampering. For example, if in America we'd mostly sleep on the club owner's lounge floor in eastern Europe we'd get accommodated in a nice hotel room . At the moment we do not have any future tours planned.
With all that's going on in the world at the moment, it's quite difficult not to be affected by it! For the creative process to be successful, it's important for the artist to have a clear and healthy mind! Do you agree? Or do you think you can transform all that weariness into something positive through your music?
When we meet to create music it's a bit of a break from the day-to-day stuff and all of the world's affairs. We tend to really dive into it for those few hours, time really flies and it's a chance to forget about a lot of troubling issues.
Have you ever experienced mental and emotional exhaustion? How do you recharge yourselves to avoid burnout syndrome?
I suppose we both experienced a range of "mental stuff" over the years but specifically B&M related stress is not really a thing. We're good friends and we only work on our music when we feel the urge. If life gets too hectic or one of us is just not up for it – we don't force it.
What was it like being born and raised in Tel Aviv? Did you grow up influenced by the political conflicts and the psychological traumas that come with living in the Middle East? How has music and art helped you to break away from that negative space?
I think everyone that lives here is influenced by the political conflicts. For us music was always a great escape, not just from big regional issues but also just anything that would affect us negatively in life. Our song "What's There to Fear" is most definitely influenced by the local situation but it doesn't deal directly with all those issues. The politics here are so intense and depressing that creating music that deals directly with that stuff would probably not be very fun for us.
The name "Bill & Murray" comes from the famous American actor's name Bill Murray. Unfortunately the 72-year-old was accused of assaulting a female crew member. Were you worried about how you will be perceived, being associated with him? Did you ever consider changing the band name?
We didn't even know that, so I guess we weren't too worried about it. We like Bill Murray and we thought it would be funny and interesting to turn his name into one of those corny boy/girl duo names.
Listen to "Rolling Stone" here: