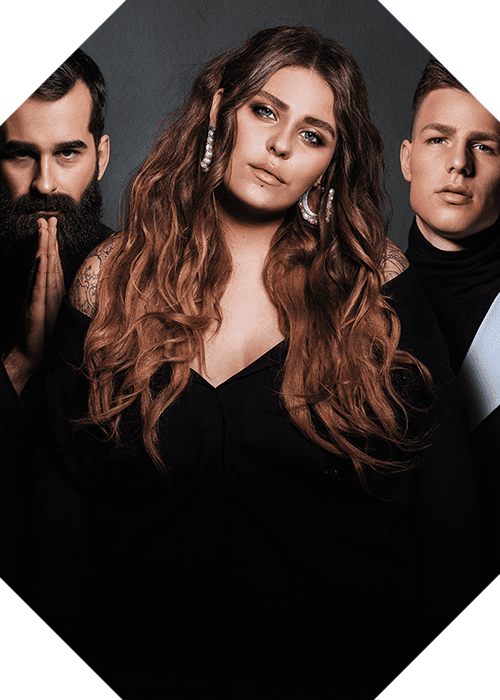 Russia-Ukraine War Update: Ukrainian Band Kazka Will Not Perform At SXSW 2022
The trio from Ukraine initially planned to cover Dylan's "Masters of War" at the SXSW 2022 festival.
Kyiv pop trio Kazka was practicing for its gig at SXSW next month the day before Russia invaded Ukraine.
The band's singer, Sasha, contemplated what would soon happen to the country after an hour and a half of music and suggested they cover Bob Dylan's "Masters of War" for their Austin, Texas show.
Kazka is a Ukrainian pop-rock band composed of Oleksandra Zaritska (Sasha), Dmytro Mazuriak and Mykyta Budash. The band has three studio albums, but its biggest hit was "Plakala," which hit number one in the country in 2018.
Russian troops launched a total attack on Ukraine from the air, land and sea on Thursday, the largest military attack on a European country since World War II.
On Friday, as Russian forces encroached Kyiv — Ukrainian forces are trying their best to resist with not much luck — Supposeduly, Billboard had a call with Urenov, the 50 year old A&R/ director for Ukrainian "Mamamusic" the record label, who formerly worked for MTV ukraine as well.
He said: "All of the band members of Kazka are in Kyiv right now. Sasha, the vocalist, has the house in the countryside, but she's very close to the war zone. It's [near] the military airport, which is important to Russian military forces, because they can land their planes there. We cannot say, "How dangerous is it?" because we've never been in this kind of situation. But the friends who are in the army say, "This is the real war," and we cannot get used to that. We just don't believe our eyes and our ears."
Only 2 days ago, the Kazka was rehearsing for SXSW, and now it's in a terrible war.
He added: "We have been making new equipment, because on the American tour, we should have been touring with another Ukrainian artist, Tina Karol, and she had another kind of mixing console. We made this rehearsal to try all this equipment, we've gone through our regular program, like an hour and a half. We've been preparing some new songs. Sasha wanted to perform "Masters of War," by Bob Dylan, because she likes the song. It was perfect for [the] times. Which is now. We didn't expect it would happen next day."
Preident of Ukraine, Volodymyr Zelenskyy says we are defending Ukraine alone and no one is ready "to fight alongside us". Volodymyr has criticised Western nations for not coming to Ukraine's aid, saying his country has been left alone to fight the invading Russian forces.
Meanwhile, Vladimir Putin is 'ready' for talks with Ukraine. Kremlin says Russian leader is ready to send a delegation to Belarusian capital 'for talks with a Ukrainian delegation'.
Pray for Ukraine. Pray for the world. Pray for humanity
We pray for the people of Ukraine during this difficult time. Protect the innocent and vulnerable.
We hope to see peace in our world: that all people may live free from violence, in safety and security, and with hope for the future. For all affected by the unfolding situation in Ukraine.
Peep their most streamed song on Spotify below with over 18M views:
And their latest project "SVIT" released under 'mamamusic'.