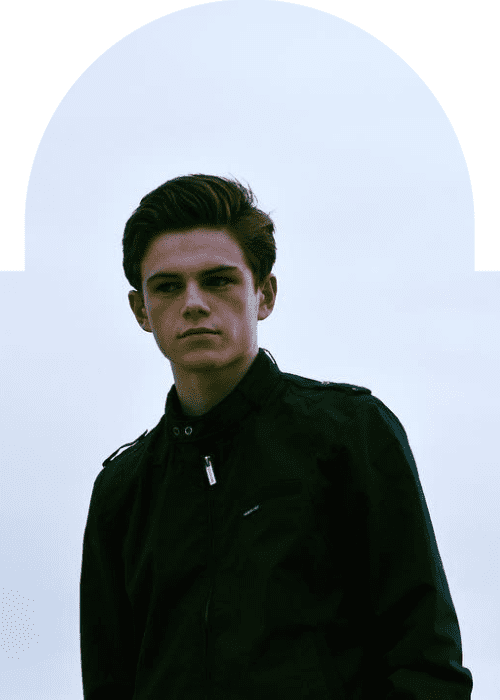 Sonic Horizons Unleashed: Lamorn's Visionary Album "Forever" – Review
Lamorn, a young genius & protege of Deadmau5 has just released a new electronic frontier with his LP "Forever". Out everywhere on June 2, 2023, this 14-track journey, is the artist's most comprehensive collection of talents. With a huge blend of vocal hymns, melancholic beats, and step-toed house music, Lamorn is capturing audiences worldwide and building a whole new level to his career. This groundbreaking record pushes the limits of electronic music, one thing is for sure, the Sweet n Sour team has it playing in all the rooms. its innovative mix of styles, emotional tunes, and thought-provoking words draw people in for the long ride. "Forever" by Lamorn is a powerful piece of music that goes beyond expectations and strengthens him as an artist to watch in the constantly changing world of electronic music.
We have been riding the Lamorn bandwagon for some time now. Lamorn, whose given name is Seth Person, has finally shown his true colors to the scene and we are all thrilled to be witnessing the revelation. A remarkable synthesis of live instrumental textures, fluttering melodies, and pulsating synth arpeggios has formed Lamorn's defining sound. All of this is set to lively, upbeat rhythms. Lamorn's sound is so developed and unified, it's hard to think he's just 20.
While "Distance" is our favorite, most of the other songs contain either Lamorn's own voice or that of guest singer Molly Otto. The single "Who We Are" is another highlight; it samples English vocalist Millie Turner and manages to sound both wistful and upbeat.
1. "Forever": A Timeless Masterpiece
The title track, "Forever," sets the tone for the entire album, capturing the essence of Lamorn's artistry. From the opening notes, listeners are transported into a realm where time stands still, enveloped by intricate layers of sound. Lamorn's meticulous attention to detail and expert craftsmanship shines through in this captivating composition. "Forever" is an immersive sonic journey that intertwines euphoric melodies, pulsating rhythms, and ethereal atmospheres, leaving a lasting imprint on the listener's soul.
2. "To Be Alive" ft. Dash30: A Harmonious Collaboration
In a harmonious collaboration with Dash30, Lamorn presents "To Be Alive." This track seamlessly blends their distinct musical styles, resulting in a synergy that is both captivating and uplifting. The fusion of Lamorn's intricate production techniques and Dash30's dynamic energy creates an irresistible composition that resonates with listeners on a profound level. "To Be Alive" is a testament to the power of artistic collaboration and the boundless possibilities that emerge when talented minds unite.
3. "Who We Are": An Introspective Reflection
Within the depths of "Who We Are," Lamorn invites listeners on a journey of self-reflection. This introspective track delves into the complexities of human existence, exploring themes of identity, purpose, and the shared human experience. Through his poignant lyrics and emotive melodies, Lamorn guides us to contemplate our place in the world and embrace the beauty of our individual journeys. "Who We Are" serves as a poignant reminder that music has the power to evoke introspection and foster a deep connection with oneself and others.
4. "Sonic" ft. Molly Otto: A Harmonic Convergence
Teaming up with the enchanting vocals of Molly Otto, Lamorn presents "Sonic." This captivating collaboration weaves a narrative of sonic exploration, guiding listeners through mesmerizing sonic landscapes. The fusion of Lamorn's experimental sound design and Molly Otto's ethereal voice creates a symbiotic relationship, elevating the track to new heights. "Sonic" takes us on a journey of self-discovery, where sound becomes a language of its own, transcending barriers and immersing us in a world of audio bliss.
5. "Distance": A Transcendent Soundscape
Lamorn's "Distance" serves as a testament to his ability to push the boundaries of electronic music. This track paints a sonic portrait of the intangible space that separates us, inviting us to explore the depths of longing and connection. Through intricate melodies, pulsating beats, and thought-provoking textures, Lamorn creates an immersive sonic experience that bridges the physical and emotional gaps between individuals. "Distance" is a poignant reminder that music possesses the power to connect souls across vast distances.
6. "I Love This": A Dancefloor Manifesto
With "I Love This," Lamorn delivers a dancefloor anthem that ignites a surge of energy and pure joy. The infectious beats and electrifying melodies compel bodies to move in synchrony, transcending the boundaries of time and space. Lamorn's intricate production techniques and dynamic arrangements transform the dancefloor into a sanctuary where music becomes a unifying force. "I Love This" is a testament to Lamorn's ability to create music that not only inspires movement but also ignites a collective sense of euphoria.
7. "This Isn't Real": A Melancholic Symphony
Among the standout tracks on the album is "This Isn't Real," a melancholic symphony that resonates with raw emotion. Lamorn masterfully combines elements of indie electronica, creating a sonic paradox that captivates listeners. The song's robotic vocals interweave with melancholic undertones, transporting us to a realm where reality blurs with imagination. "This Isn't Real" is a testament to Lamorn's ability to evoke profound emotions through his music, leaving an indelible mark on the hearts of those who listen.
8. "Not Alone": A Serene Oasis
Within the tranquil soundscape of "Not Alone," Lamorn offers a serene respite amidst the album's vibrant compositions. This track invites listeners to immerse themselves in a world of gentle melodies and ethereal atmospheres. As the music unfolds, a sense of peace and solace washes over, reminding us that even in moments of solitude, we are never truly alone. Lamorn's meticulous attention to detail and his ability to create emotive soundscapes make "Not Alone" a captivating interlude within the album.
9. "Olsen After Midnight": An Enigmatic Exploration
In "Olsen After Midnight," Lamorn embarks on an enigmatic sonic exploration. This track transports listeners to a realm cloaked in mystery, where dark undertones intertwine with moments of luminescence. Lamorn's meticulous sound design and intricate composition techniques create an immersive auditory experience that keeps us captivated from start to finish. "Olsen After Midnight" serves as a testament to Lamorn's ability to craft music that pushes the boundaries of the electronic music landscape.
10. "Where Am I": A Mesmerizing Quest
"Where Am I" invites listeners on a mesmerizing quest through its captivating melodies and rhythmic tapestry. Lamorn's expertly crafted arrangements take us on a sonic adventure, navigating through layers of sound that intertwine and evolve. This track captivates with its infectious energy and innovative sound design, leaving us yearning for more. "Where Am I" exemplifies Lamorn's ability to create music that engages the senses, transporting us to new dimensions of sonic exploration.
11. "Message": A Poetic Narrative
Within the heartfelt composition of "Message," Lamorn weaves a poetic narrative that resonates deeply with the listener. This track's emotive melodies and introspective lyrics invite reflection and introspection. Lamorn's ability to evoke profound emotions through his music shines through in "Message," immersing us in a rich tapestry of sound and emotion. As the music unfolds, we are reminded of the transformative power of music, and how it can touch our lives in profound ways.
12. "Message" (Extended Mix): A Sonic Odyssey
The extended mix of "Message" extends the boundaries of the original track, inviting listeners on a prolonged sonic odyssey. Lamorn expands upon the emotive journey, delving deeper into the intricate layers of sound. With its extended duration, this version allows us to fully immerse ourselves in the profound emotions and musical intricacies that "Message" embodies. Lamorn's ability to captivate through extended compositions is showcased in this sonic masterpiece.
13. "Armed"
"Armed" is perhaps one of Lamorn's most well crafted songs, both on the album and in his catalog. A ping pong effect from beginning to end, broken beat pattern and a heavy step, comes to compliment the futuristic soundscape the artist paints us from beginning to end of the album. The track takes the listener through what might seem like a battlefield of musical interludes before delicately leveling our imaginations with the final track of the album.
14. "Eleven"
As the final track on the album, "Eleven" leaves a lasting impression. Lamorn's mastery of sound design is evident as pulsating rhythms, soaring synths, and immersive textures converge, creating an intense and exhilarating musical experience. "Eleven" serves as a fitting conclusion to the musical odyssey of "Forever," leaving listeners in awe of Lamorn's exceptional talent and artistic vision.
Lamorn's "Forever" is an album that defies expectations and transcends boundaries. With its innovative blend of genres, emotive melodies, and captivating soundscapes, Lamorn invites listeners on an immersive musical journey that leaves an indelible mark. Each track on "Forever" showcases Lamorn's ability to craft music that connects on an emotional level while pushing the boundaries of electronic music. Lamorn's exceptional talent, meticulous attention to detail, and boundless creativity position him as a true visionary in the industry.
Follow Lamorn:
Instagram | Facebook | YouTube | Twitter