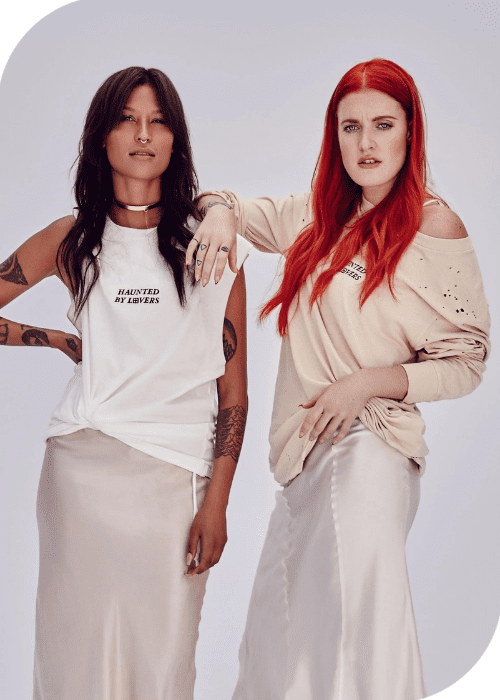 10 Years in the Making: Icona Pop's Album 'Club Romantech' Announced – Following Hit "Shit We Do For Love"
"Shit We Do For Love" by Icona Pop continues the trend. The two and a half minute song is unadulterated EDM distortion. Ambient synth and a Happy Hardcore-influenced, fist-pumping rhythm. This song, which is redolent of bubblegum and neon electro from the 1990s, is omnipresent on British and European radio and should be played more on American radio.
The song is a testament to their shared conviction that love, in all its chaotic and joyous splendor, is worth the roller-coaster ride. "We were in the studio with our buddy and writing partner Hanna Yaeger talking about the craziest things we've done for love, we had so many wonderful wild tales. "It just came together in a way that felt so current and urgent we had to release it immediately," the pair told Rolling Stone.
Fans of Icona Pop may stop waiting now. Party-pop powerhouses from Sweden announced that following this massive single their new album, titled "Club Romantech," will be released on September 1. For fans of Icona Pop, this is the long-awaited follow-up to 2013's "This Is… Icona Pop."
Aino Jawo and Caroline Hjelt, two of the group's members, have said that making their newest album was like "exploring our different sonic styles." That's who we are as Icona Pop—we can put out a pop song or an extremely hard dance track. There were no guidelines to follow when we first began working on this record. We got an idea and wanted to tell our followers about it. In a statement, they said, "We're inviting them into our world."
A collection of their most thrilling hits from the previous several years, "Club Romantech" will include fan favorites like "Feels in My Body" and newer tracks like their exciting collaboration with Galantis on "I Want You."
With the launch of their new album comes the premiere of their brand new single, "Where Do We Go From Here." This song exemplifies everything that makes Icona Pop great; it has a catchy Europop tune and a thumping rhythm that will keep fans on the dance floor till dawn.
In 2012, Icona Pop made their debut, and their song "I Love It" starring Charli XCX quickly became a radio staple. They made their debut in 2011 with "Icona Pop," an independent Swedish label record; in 2013, they made their big label debut with "This Is… Icona Pop." The two were able to open for major artists like One Direction, Marina and the Diamonds, Katy Perry, and Miley Cyrus at this period.
"Club Romantech" Track List:
"Fall in Love"
"Desire"
"Shit We Do for Love" (with Yaeger)
"Stick Your Tongue Out"
"Make Your Mind Up Babe"
"Stockholm at Night"
"Where Do We Go From Here"
"I Want You" (with Galantis)
"Loving You Ain't Easy"
"Need You"
"Off of My Mind" (with Vize)
"Faster"
"You're Free" (with Ultra Naté)
"Feels in My Body"
"Spa" (with Sofi Tukker)
Whether you're a die-hard Icona Pop fan or simply a lover of good music, prepare for a roller coaster ride of pulsating beats and electrifying melodies that are sure to get your heart racing and your feet moving. The countdown has begun, and we're ready to welcome "Club Romantech" with open arms.