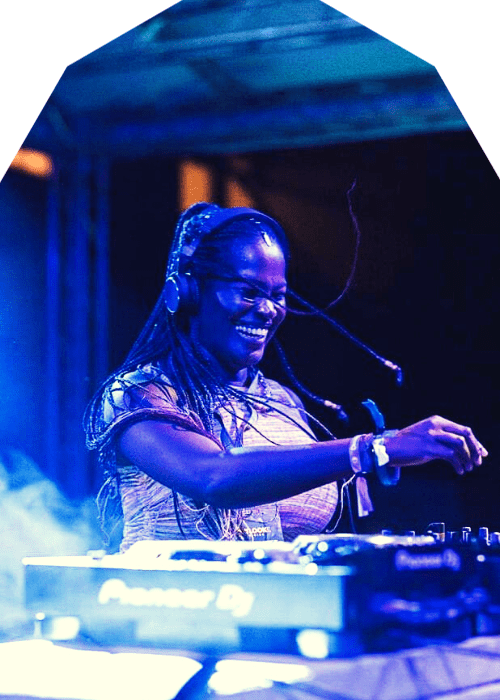 7 Up-and-Coming DJs & Producers To Look Out For In 2023
Here are some of the musicians who will be making a big splash in 2023. From Contemporary and Experimental Jazz to New-School and Trance-infused club music, these DJs and producers show great potential and promise to take over the industry.
Bournemouth-based DJ, Ama, who grew popular spinning at House Of Hi-Fi, has become one of the most influential figures in the Drum & Bass DJ scene. Paving the way for other women as well, the gifted musician has performed at festivals and clubs all over the world, from the UK to North America and South Africa.
Shining through with her diverse selections, Ama has full control of the decks. The rising DJ has been mastering her craft for the past eight years, making appearances at the BBC Radio 1 Dance Stage at Reading and Leeds Festival.
"I love to take people on a journey. When I was younger, my favorite sets would always be the ones that took me on peaks and troughs. I try to remember how I felt as a raver, and cram as much as I can into an hour."
An old soul that isn't afraid to experiment, Jazz musician and producer, Brian Ligon, has topped the charts with his latest album Nowhere But Here II. Collaborating with many notable names in the industry, the versatile composer brings together elements of Contemporary, Experimental, Funk, and Cool Jazz.
Brian Ligon has been producing music for some major artists like Beyoncé, Drake, and Lil Wayne, to name a few, through the completion and release of Nowhere But Here II. Taking Berklee courses in Music Composition for Film and TV, he plans to compose original music and scores for Hollywood movies of various genres in the future.
"Composing original music has always been a passion of mine, it's part of my legacy, and a gift to share with others. I hope to reach as many listeners as possible generating more fans who enjoy my music."
NY-native, Ibiza-based musician, Chloé Caillet, is rapidly becoming one of the most crowd-pulling DJs across Europe and the States. Moving from New York to Paris, then to the UK, the talented artist now resides in Spain, pumping up club-goers from every corner of the world.
Playing House, Funk, and everything in-between, Caillet has had a very fulfilling year with her 2022 tour, "I mean, it's been incredible, I really enjoyed it. I've met so many amazing people, there've been so many great DJs all summer."
Her background in Jazz and music production has allowed Chloé to deliver all-around sets that showcase her different influences and knowledge. She is currently working on an album and plans to drop a release/month, starting February.
"Every time I play, I feel like I learn something new about myself as a DJ as well. The crowd just wanna dance, they wanna party, so what a great vibe. You can go with them."
Multi-disciplinary artists Luca Medici and Delbert Perez, together known as INVT, are a DJ-producer duo known for mixing UK Electronic and Techno music with Tropical Latin American genres like Salsa, Merengue, Bachata and Reggaeton.
After exploring their Jazz/Electronic side, the two decided that they wanted to put their focus on their own project and began creating a live electronic set. "Since we both come from instrumentalist backgrounds, we felt like our performances should be more than just DJing," revealed the Miami artists who are now settled in New York.
"Living in Brooklyn was a life-enhancing experience in all aspects, the change of pace, the realness, the seasons, the hustle gave us a tremendous perspective on how to execute our ideas."
Adam Emil Schierbeck, professionally known as Main Phase is an acclaimed DJ and producer from Copenhagen. Dropping beats that stem from Bass-Heavy grime and Jungle influences, the promising up-and-comer has released on some of UK's most in-demand labels and collaborated with what he calls "his heroes."
Main Phase has only been active since 2020, and has already garnered a massive following with his body of work that has scored him tours alongside Flowdan and Killa P. The producer has a lot more to come in 2023. He's been busy preparing for new releases, working together with renowned names he can't yet reveal.
"It's me and what I've become, and all the people around me, finally meeting my heroes. It's going to be an exciting year, because I've got studio sessions and remixes coming that I wouldn't even dare to dream about when I was younger… but I'm still that weird little 14-year-old listening to records in his bedroom late at night."
Japanese-British DJ, producer, and pianist Manami has made quite an impression across the UK with her dynamic and mind-boggling sets. Coming from the Bristol scene, the young talent has woven her way to the Dance music genre thanks to her free-flowing decks.
In addition to supporting emerging artists via her radio shows for Worldwide FM and Noods,
Manami makes sure to invest her skills in good causes. Running workshops on the Saffron platform, the musician sheds light on the gender imbalance in Dance music and encourages more women, non-binary, and trans artists to DJ and produce.
"The reason I like DJing is having this shared experience. The feeling it communicates is euphoric. That's something that is consistent in what I do, and what I make."
Producer, DJ and founder of the Wokoundou record label, Philou Louzolo is recognized by his musical and cultural diversity. Growing up with adoptive Dutch grandparents, the multi-skilled musician was exposed to Jazz and Classical music from a very young age. He then tapped into his African roots and began exploring the traditional sounds of Africa.
Collaborating with international artists across the continent, Louzolo blends Afro House and Techno to create an exceptional new style. Embracing his origins, both personally and sonically, Philou never fails to charge the dancefloors and has rightfully earned his place as an artist to watch in 2023.
"I never stopped believing in the source – which is Africa – and the support we can give each other. I'm grateful to be able to work with so many artists who knew I was at a low point in my life, but everyone believed in the magic we could create. We have to stay close to the source. For me, that is accepting who I am and what's within me, embracing everything I am.'