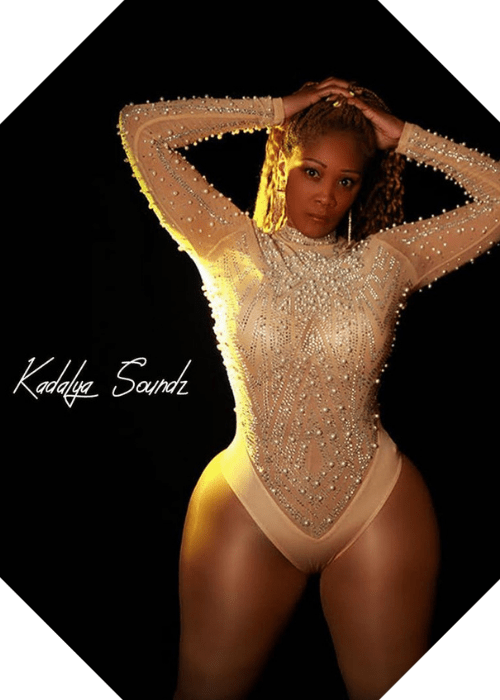 Exclusive Interview With Rising Songwriter & Rapper Kadalya SoundZ
Paterson, NJ-based freelance writer and artist Kadalya always had a voracious desire for music, especially for Hip-Hop and urban culture. From the time she could tie her own shoe, she was already mentally creating her own lyrics in secret and writing her own songs. The songwriter and rapper just unveiled her new single "Jersey," a powerful song reflecting a form of parental guidance following-up to her previous single "On The Wire." We had the chance to chat with her about her new single, music career and much more!
Hi there! We really enjoyed your music and we'd love to ask you some questions about it.
Big congratulations on the release of "Jersey"! What inspired you to record this powerful song about your home state?
Jersey is my home state where I was born, where I grew up, and where I was raised all my life. I mean I love Nj..I love my Jersey dudes, and I love my Jersey girls. From North jersey to south jersey, we are all still jersey. And I just feel that Jersey doesnt get the credit we deserve. we need to be represented more, all you constantly hear is ny this ny that, and we are literally across the bridge from my, just 20 minutes from my home town of Paterson, nj. And us Jersey girls like to be spoiled. We want it all and I like to have fun with my music and not offend anyone. I like to target my jersey dudes and represent my ladies. But at the end of the day I just have fun and have nothing but love for nj.
How has growing up on the East Coast affected your music career?
The east coast has some of the greatest rappers hands down, from jay z, to biggie, to jadakiss and so many more..even fetty wap not only being from nj, but right from my hometown of Paterson NJ, so seeing how he made it is motivating and I was just proud if him. I don't know him personally but I know he is from paterson NJ, which again makes me so proud of him, my city. and my State..And again overall, the east coast just has some of the best in the game.
Was the pandemic an obstacle to your creativity?
The pandemic was definitely not an obstacle for me, it was more like an opportunity. It gave me more of a push to use my creative side, with constantly being indoors sort of pushed me to express my talents and entertain myself. I mean I do a lot of writing and one day I said to myself maybe I can write a song, and automatically being a hip fanatic, I naturally wrote some rap lyrics. Once I wrote my first song, I said to myself, maybe I can record it as well. And once I hit the studio for the first time that was it, it was more of a passion, so I started writing more, and recording more, and I did the Jersey song and I had many people say wow that song was dope, especially guys. And one guy said why don't you do something with this song, and here I am.
What sets you apart from your peers?
Well as far as my female peers I am certainly not as talented and great as they are. I think in some cases I may be a better writer, but not so much of a great deliverer. I mean I can write bars for days but I really need to practice on my delivery. I mean you have some of the best out there who can write and deliver which is awesome, and I love them for that, and I appreciate their confidence.
What event or experience in your life made you want to commit to making music?
Growing up in a hip hop environment since I was a kid, it's basically all I know, it's embedded in me, it's what I enjoy, it's what I like, always have and always will. I am just a natural for it and am very attuned to hip hop music.
What is your strongest skill as an artist?
My strongest skill is being confident about what I put on paper. Saying what I want and how I feel and not worrying about anyone else's opinion of me or my music. I write and say what entertains me, and makes me happy. If you like my music, please feel free to listen, I appreciate it, but if you don't like then just simply dont listen.
What are your desired milestones as a musician in the near future?
My desired milestone is just getting better at what I am doing. Again, working on my delivery, maybe collaborating, and taking the opportunity to learn from others in the game. For me there is always room for growth, being a new artist I am still learning, I am still listening, and I am still willing. Willing to take advice and constructive criticism. I am open for the challenge, I am open.for it all and look forward to it as well.