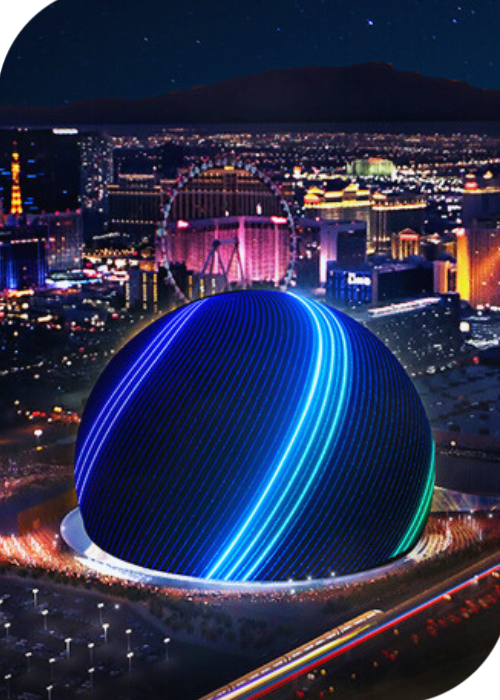 Las Vegas' MSG Sphere Faces $98.4 Million Loss, CFO Resigns Amid Financial Struggles
Las Vegas' highly anticipated multi-billion-dollar entertainment venue, MSG Sphere, has reportedly incurred a significant loss of $98.4 million since its grand opening in late September. The venue, designed to host large-scale events and adorned with a luminous exterior, kicked off with a series of U2 residency shows.
Initially projecting revenues of $117.3 million for its opening period, MSG Sphere fell short of expectations, with actual figures revealing approximately $4.1 million in revenue from the two sold-out U2 performances and an additional $2.6 million from suite licensing and advertising.
The venue generates income from both events held within its space and advertising displayed on its distinctive exterior. However, the reported losses have raised concerns about the financial viability of the high-profile entertainment hub.
Wall Street analysts anticipate a quarterly loss of $1.27 per share, contributing to the financial challenges facing MSG Sphere. In a surprising turn of events, Chief Financial Officer Gautam Ranji has reportedly resigned from his post, according to a Securities and Exchange Commission filing. The New York Post suggests that Ranji's departure resulted from a disagreement with MSG CEO James Dolan.
However, MSG Sphere's official filing asserts that Ranji's resignation was unrelated to any disagreement with the company's auditors or management on matters of accounting principles, practices, financial disclosure, or internal controls.
Constructed at a cost of $2.3 billion, MSG Sphere has faced criticism from some Las Vegas residents due to its imposing and luminous exterior. Despite the financial setbacks, the venue is set to host a series of events in collaboration with the Las Vegas Grand Prix.
Plans for a similar MSG Sphere in the Stratford area of London are currently in the process of seeking approval, although the project has encountered significant opposition from local residents.
As MSG Sphere grapples with financial challenges and changes in its executive leadership, the venue's future and its potential impact on the entertainment landscape remain subjects of heightened scrutiny.