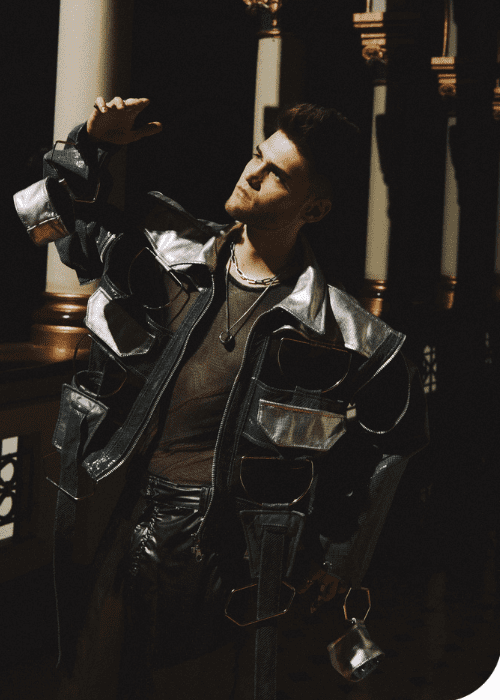 Meet Martin Trevy: From Ushuaïa's Grand Stage to Chart-Topping Hits
At SweetnSour Magazine, we're thrilled to present an exclusive interview with the electrifying DJ sensation, Martin Trevy, who's been making waves across the music scene. Fresh off a breathtaking performance at Ushuaïa, where he shared the stage with heavyweights Dimitri Vegas & Like Mike and Martin Jensen for the Tomorrowland Presents show, Martin Trevy's star is undoubtedly on the rise.
In this candid conversation, we'll delve into the creative mind behind the recent chart-topping hit, "Love for You," and explore the influences that have helped shape his remarkable sound. Plus, we'll catch a glimpse of Martin's aspirations as he reveals the dream collaborations that fuel his artistic fire.
1. Martin, your latest single "Love For You" has quickly become a sensation. Can you talk about the initial spark of inspiration behind this electrifying track and its journey from concept to release?
The initial idea was a voice note I had recorded of the main melody. I always carry my phone around with me and record ideas by humming the melodies. After hearing it back, I knew that with some work it could become into something special. At that moment I was preparing for a club show at New City Gas in Canada, so I finished up a demo to play live. When I played it the response was insane! That's when I knew I had to finish and release the record.
2. With Italian heritage and Colombian roots, how do these dual identities influence your music, especially in tracks like "Love For You"?
They definitely influence me in many ways. My Italian family is from Trevizo, a city 30 minutes away from Venice. I feel a very close connection to the attention to detail they give to art. Since I was a kid, I saw how art could shape a whole country and culture. My Latin side gives me more freedom and allows me to feel songs differently. I can say it gives me an extra spice with my moves haha.
3. You've mentioned that "Love For You" celebrates the connection that brings people together on the dance floor. Can you elaborate on the impact you hope this track will have on listeners worldwide, both emotionally and rhythmically? 
My goal with this song is to make people feel united with the power of love. The song has a unique characteristic that makes you feel euphoric and emotional at the same time. It is a high energy tune, so it will definitely make you move! 
4. Over the years, you've achieved immense success and gathered more than 380,000 monthly listeners on Spotify alone. What does it mean to you to be one of the leading electronic acts in Colombia?
It means a lot to me! It is crazy how having a vision and working hard can make your goals come true. Being from Colombia, where electronic music is not a really a big scene, I hope I can open doors for the next generations to come.
5. Many artists often speak about key collaborations or events that shape their career trajectory. Who or what would you credit as a pivotal moment or influence in your musical journey?
A big one for me was when Tiësto played one of my tracks. At that time I was about to graduate with a degree of Industrial Engineering from college. I needed that support because it gave me a clear message to follow the path of music. I would not be happy being an engineer. I must say that moment gave me the push I needed to 100% pursue and do what I love the most.
6. You've recently premiered a brand-new show at ULTRA Colombia 2022 to a massive audience. Can you give us a behind-the-scenes look at the preparation and emotionsleading up to such a significant event?
Oh man, it's a rollercoaster of emotions that can come up with the preparation. I am constantly challenging myself to be a better performer so it can be hard at times. There is a ton of work behind the scenes to ensure a great show. Once I'm on stage though all the efforts are worth it. There is no better feeling than being there.
7. You have been associated with renowned labels such as Warner Music Germany, Kontor Records, and Sony Music, to name a few. How do these partnerships shape your music, and what was the experiencelike being the first Colombian artist to sign an exclusive deal with Kontor Records?
It's great to have the help of these labels. They provide a team, structure and experience. At the end of the day my passion is to make music. It's what I enjoy the most. I can spend a whole day just making music. The labels help me reach a wider audience and provide help with all the logistics involved, so I can have more time to focus on my craft. I will always be grateful to all the people who have believed in my music. In Colombia, there is not really a specialized dance music label. So when Kontor offered me the opportunity I was happy to finally get my music heard abroad.
8. Your single "Bassline" was highlighted on Tomorrowland Radio and added to significant Spotify playlists. How crucial do you think these platforms are in the evolution and reach of an artist's music in today's digital age?
They can be great since they have a huge audience. You can reach thousands of people in just one day that have never heard your music before. Getting the support from 'One World Radio' was insane since one of my goals is to play Mainstage at Tomorrowland. It's on the way!
9. With your upcoming live performances slated across multiple countries in 2023, what can fans expect from a Martin Trevy live show? Any teasers or hints on new innovations or tracks?
My shows are an immersive experience. You are guaranteed to go on an emotional ride. Feelings of euphoria and nostalgia can come into play. At the moment, I am singing many songs live, and premiering many exclusive unheard ID's. I also throw special stage illusions on set. You can expect something different for sure! I also have 2 club EP's and big collaborations on the way.
10. Having shared the stage with the likes of Afrojack, Bad Bunny, DJ Snake, and more, are there any artists or producers you're eager to collaborate with in the future?
David Guetta and Tiesto! They are huge inspirations for me! Even after all these years, they are constantly pushing the boundaries of sound.
11. As a multi-talented force in the electronic music scene, how do you envision the future of this genre? And what's your ultimate wish or hope for the evolution and impact of electronic dance music globally?
I envision a future where talent in this genre gets rewarded more every time. world that rewards those who want to take risks. A world that accepts those who want to be different. I think we are on the right path, as you see many DJ's slowly incorporating live elements into their shows.