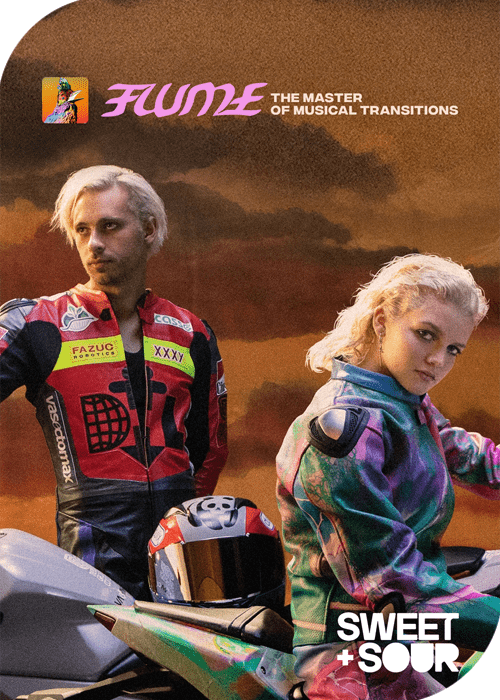 The Master of Musical Transitions – Flume Takes Us Higher with "Say Nothing" Feat. MAY-A
Flume has just shared his latest song and music video for "Say Nothing" feat. MAY-A, which is also the lead single of the musician's forthcoming album Palaces.
We all know how Flume transformed the EDM industry, and how he made the "future bass" style popular. When talking about Flume, we know right away that it's gonna be experimental and breathtaking, as always with his works. He is the Picasso of the EDM scene, always mixing and breaking all stereotypes.
The "Say Nothing" music video and song will take you on an emotional roller coaster. The music video is colourful and mystique, and includes bright visuals. At first, it will be difficult to understand the meaning of the music video and the storytelling behind the visuals, but when you dig a little deeper, you will catch the true meaning of it.
It's about personal death, rebirth and reincarnation, in the period following a toxic and harmful relationship.
In the visual, we see MAY-A buried in black sand, interspersed with shots of a motorcyclist dressed in psychedelic gear. It's the death of personal identity, and illustrates the death of two in a toxic relationship.
In the second part of the visual, viewers can see Flume sitting in front of a table, on top of which burgers, psychedelic mushrooms, and junk food symbolise lies and toxic talks in relationships. Next you'll see a bird on his hands that he doesn't set free, an allegory for letting things go. And in the final visual you'll see the newborn child, snail, Flume riding a motorcycle, blooming flowers, which represent freedom.

The music transitions packed in this track are so powerful, making the viewer feel every single emotion, a spine chilling experience. Mixing thoughts of freedom, anger, love chains, inner peace, regret, all together in an inspiring way. In this single Flume used samples from the "Hi This is Flume" mixtape. A flawless mix between the old and the new. Flume never ceases to create a new version of his unique sound design, the best proof for that being this new song.
"This song is about feelings of post relationship clarity. We wrote the song midway through 2020 while the pandemic was still pretty new. I was really excited about the initial idea but it was only once I got back to Australia in early 2021 and linked up in the studio with MAY-A that the song really came to life." – Flume
Flume says that his surroundings inspired him. He used samples of the local wildlife.
Musically, the artist said that 'Palaces' covers "a whole spectrum of stuff, from more pop-leaning to weird stuff".
Flume explained why he called the album Palaces: "I called it 'Palaces' because I felt like when I returned home… It felt like my palace. Felt like I had a lot of clarity, felt much more grounded, living a really simple life. That's when all the music came together."
He continued: "COVID will get you out of that work/hustle grind. It was definitely a realization that mental health is really important. That's something I hadn't put as my highest importance, I just put working above all else for so long."

This is how Flume makes us speechless.