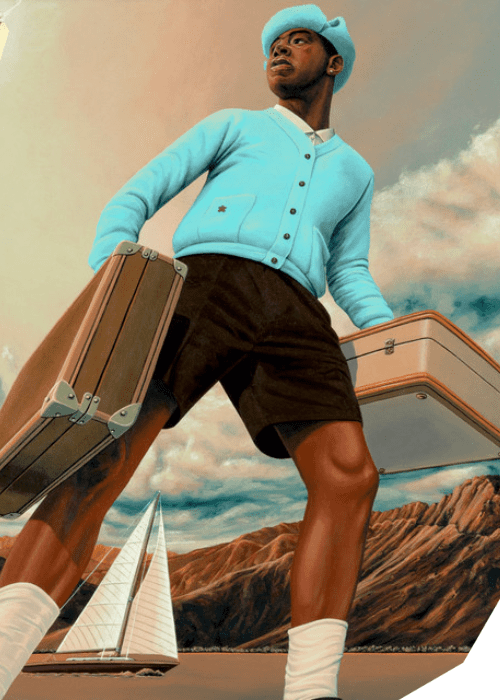 Tyler, The Creator Announces the Release of Bonus Tracks for "CMIGYL"
In June 2021, Tyler, The Creator released his sixth studio album, CALL ME IF YOU GET LOST, which consisted of 16 songs and a runtime of 53 minutes. The album was well-received by fans and critics alike, with many praising the rapper's upbeat songs, as well as the European aesthetic and eclectic persona he developed as Tyler Baudelaire.
Now, almost two years later, Tyler has announced that he will be releasing "a collection of songs that didn't make the original album" under the title CALL ME IF YOU GET LOST: The Estate Sale. The rapper shared the news on social media, along with a painted album cover of Baudelaire carrying suitcases. The Estate Sale is set to be released on Friday, March 31.
To accompany the announcement, Tyler also released a self-directed music video for the first single from the collection, titled "DOGTOOTH." In the video, Tyler returns to his California-boy roots, wearing a Golf le FLEUR* baseball cap and t-shirt. He is seen dancing from the top of a lighthouse and performing donuts in a vintage white car, while dropping bars about starting anew and letting go of old things.
Tyler has always been known for his unique and innovative approach to music, and this latest release is no exception. Fans can expect more of his signature sound, with a fresh twist and new ideas that only Tyler, The Creator can deliver.
With the release of CALL ME IF YOU GET LOST: The Estate Sale, Tyler continues to cement his position as one of the most exciting and innovative artists in hip-hop today. Fans can't wait to see what he has in store and are eagerly anticipating the drop of this latest collection of tracks.