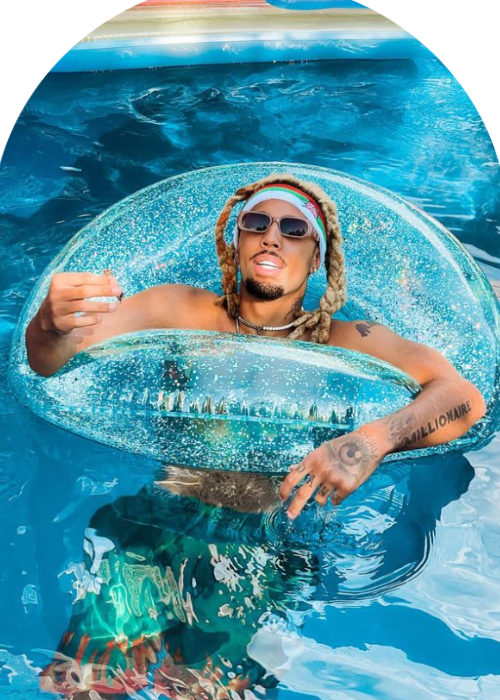 Crybaby Cash to unveil a new full-length project
Crybaby Cash, the versatile recording artist from New Orleans, Louisiana, has been making waves in the music industry since his Vine days in 2013. He initially gained fame for his viral rapper impersonations on YouTube under the name mcashhole, amassing over 17 million views. Eventually, Crybaby Cash began releasing his own music, rebranding himself and embarking on a new journey as an artist.
Since 2018, Crybaby Cash has consistently released new music and videos, racking up millions of streams and views across multiple platforms. He's known for his authentic sound and lyrics that hold nothing back. Soon, he'll be releasing the first full-length project of his career, "Jocing Bad Season II," which follows a similar theme as his 2019 EP, "Jocing Bad," but pulls inspiration from the "Joker" movie.
"Jocing Bad Season II" is expected to showcase Crybaby Cash's versatility, with multiple 808-heavy trap songs that detail his surrounding world, as well as emotional slower songs. It's sure to be one of his best tapes yet.
In the hard dance scene, INQUISITIVE, also known as Leon Lucas Ho, has quickly become one of the most sought-after DJs and music producers in Southeast Asia. Born and raised in Singapore, he's known for fusing modern-day hard dance with Asian and Chinese elements, reflected in his show visuals.
INQUISITIVE's career highlights include winning the Singapore DMC Championships three times and being a top 12 world finalist in the DMC World DJ Championships in 2008. He's toured in multiple countries, spinning at established clubs and festivals worldwide, including Ultra Korea, Ultra Japan, and Marquee Sydney.
INQUISITIVE's success is not limited to his live performances. He's also the first Singaporean hard dance artist to hit 1 million streams on Spotify with his independent release, "DIVINE YASHA." Additionally, his track was signed to one of the top hardstyle labels in the world, Dirty Workz, and another to Yellow Claw's Barong Family.
Like many artists, INQUISITIVE faced challenges on his path to fame, including multiple rejections from record labels and unsupportive friends. However, he persevered, staying true to his craft, and working tirelessly towards his goals. He encourages budding artists to never give up, especially in the face of failures and losses.
INQUISITIVE believes in having a game plan and working towards it, no matter the obstacles he may face. He aspires to be the first hard dance artist to put Singapore on the map and spread Asian-inspired hard dance music throughout the world. His success is a source of pride for Singaporeans and people of other Asian countries alike, as he puts Southeast Asia on the map as a hub for hard dance and electronic music.
As INQUISITIVE continues to inspire and entertain audiences worldwide, you can follow his journey and stay up-to-date on his latest releases and performances by following him on social media platforms like Instagram, Facebook, TikTok, SoundCloud, YouTube, and Spotify. His rise in the hard dance scene is an exciting development for Southeast Asian music, showcasing the talent and potential that exists in the region.