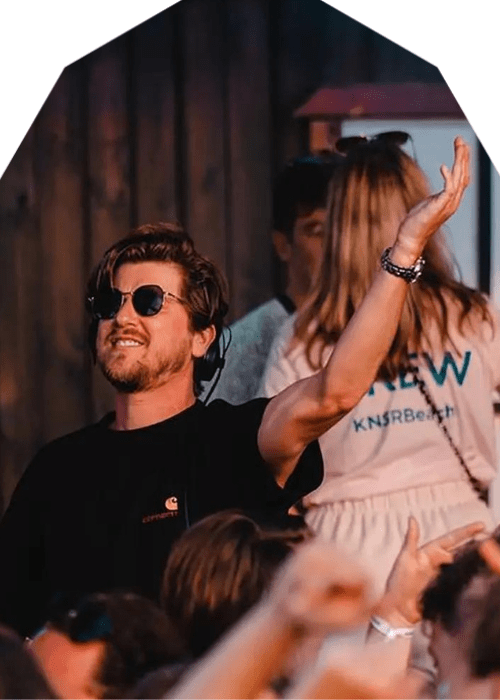 De Hofnar And CRÜPO Just Want "Another Round" With You!
De Hofnar is a man who demonstrates consistency and excellence at an unrivaled level. With over 3 million monthly listeners and 6 releases planned for 2022, the Dutch musician shows no signs of slowing down. This time, in collaboration with CRÜPO, a fellow Dutch DJ and producer, the pair presents a summer stunner that's sure to conquer both the charts and the dancefloor. It's called "Another Round," and it's another banger released by King's Castle in conjunction with Soave. Good feelings you won't want to miss, so turn it up now!
De Hofnar, one of the founders of the Tropical House genre, amassed his first millions of listens on SoundCloud and YouTube. His brilliance was rapidly recognized by the fathers of dance music, with Tisto, Laidback Luke, Pete Tong, and Armin van Buuren requesting official remixes from the Dutchman.
"It's just amazing when legends like these ask you to make remixes of their tracks." De Hofnar, meaning 'Court Jester' in Dutch, sees himself mainly as a provider of joy for people. "I believe that as a DJ, I'm the court jester for people all over the world. That's why I live my slogan: You're the kings and queens and I'm just here to entertain you."
His debut album, called 'Kings and Queens', went on to reach over 30 million streams on Spotify alone. 2021 saw De Hofnar launch his own record label Sandcastle, together with Dutch imprint Soave.
CRÜPO (Otto Kruip) is a Dutch DJ and Producer who was born and raised in the Netherlands' east. He makes electronic dance music that soothes the heart with his love and enthusiasm for harmony and rhythm. He is showing the world what he is capable of by developing new sounds and creative freshness. He raises your feet with his DJ performances, which combine exquisite songs and smashing sounds. He has played with clubs such as Jimmy Woo (Amsterdam), Dynamo (Eindhoven), PKHS (Tilburg), and many more.