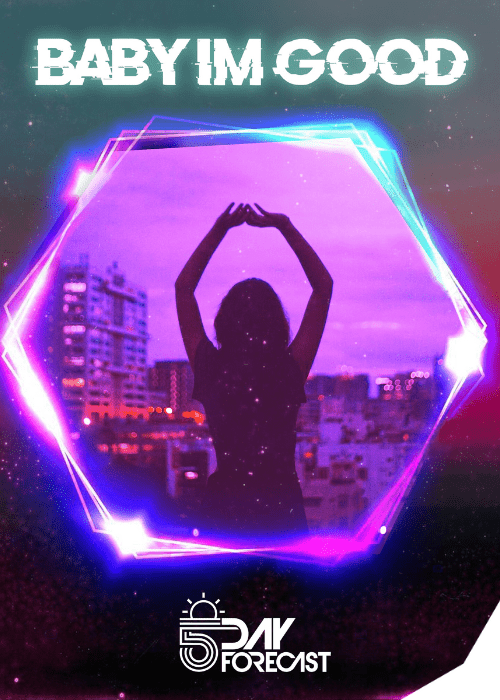 DJ 5 Day Forecast Opens Up About His Musical Journey & New Single "Baby I'm Good"
With hit releases like "To The Edge" and more recently "Baby I'm Good," open-format DJ, 5 Day Forecast, has made quite the buzz with his creations. We had an in-depth one-on-one chat with the multi-talented producer, talking about the latest single, his musical journey, creative process, and the future of the industry.
First off, congratulations on your new release "Baby I'm Good"! The song embraces independence and rediscovering individuality post a breakup. Would you like to share what inspired you to take on such a topic? Have you been through a similar thing?
THANK YOU!! I think during the journey of life almost everyone including myself at some point has dealt with a tough breakup. What this song embodies is the internal struggle everyone deals with during the grieving phase of a breakup where you keep telling yourself you're okay and will be fine on your own but sometimes your emotions and actions don't align with your thoughts.
What is your creative process like? How do you layer sounds and instruments? How do you come up with the beats? How do you choose your songs?
I'm lucky to have made so many connections over the years and have met some very talented musical ears. Almost every project starts with me bouncing the idea off a few of my closest friends to gauge their thoughts. If I get generally positive feedback, I then lock myself in my studio (aka guest bedroom ) and just experiment over and over with different sounds, instruments, drums, melodies until I land on what I originally envisioned in my head. Once I'm happy with the overall direction of the song, I share it with my circle and generate feedback and make tweaks as needed until I'm 100% satisfied.
When did you first discover your passion for DJ-ing and producing music? Who were some of your earliest inspirations and influences?
Ever since I was a young kid I always loved music and the way it made me feel. I grew up in a family where the radio was always on and the record player was constantly playing. As I got older, I felt like I wanted to give people that same feeling back I got when listening to music, so naturally DJing was a perfect segway to this. After a few years of DJing, I wanted to make my own mark on the music industry. I told myself that I would leave behind a catalogue of original music that was timeless which led me to production. One of my earliest inspirations that I still strive to mimic was DJ AM. I loved and still to this day admire how he was able to seamlessly carve out sets that hit so many different genres and styles of music.
How would you describe your development as a producer? Do you rely on your instincts or knowledge? How do you make sure that you are delivering your best creative self?
At this point I am 100% instinctive when it comes to producing. I feel like in today's scene so many producers have a specific "sound" or sub-genre that they sometimes get pigeonholed into. My goal is to not have a "sound" or be associated to one sub-genre but to be able to be versatile and dynamic and to create music that you would almost be surprised came from the same guy. I'm at my best when I'm not forcing myself to create music that I think people would love but making music that I personally love.
What were some of the challenges and difficulties you had to overcome to do what you love? Was there a specific time period when you felt like you might not make it?
This industry is extremely difficult to navigate and has so many ups and downs I can't even count. Over the years, I've met a lot of great people but have also met a lot of fake people that use you just to elevate their name and brand. I am such a loyal and family first type person that those instances where I've felt wronged have lingered and definitely made me contemplate if I really wanted to do this on multiple occasions. My love for music and goals I've set for myself are what kept me going. Also, in a social media world, when you put a lot of energy into a video or some type of content and get minimal engagement that also can put you into a funk but you have to learn how you can improve and pick yourself up.
The music industry is an oversaturated market! How do you distinguish yourself from the competition? Do you follow the latest trends or prefer to do your own thing and hope it will resonate with the public?
My #1 goal with the 5 Day Forecast brand is to be unique and different then everyone else in the EDM scene. I personally LOVE true Open Format DJing and being able to play everything from Rock to Hip Hop to Latin to EDM to Pop and everything else in between. My goal is to bring that same open format dynamic to the EDM scene. What the 5 Day Forecast name means to me on the production side is exploring my 5 favourite sub-genres of EDM at any given time. The 5 I've chosen to focus on are Tropical House, Progressive House, Tech House, Dubstep and Future House. My musical direction on future releases will be determined on my overall feeling, time of year, personal life etc.
When was your first gig and what was it like? How has the industry changed since you first started? And where do you think it's heading?
So my first ever gig was in 2017 at a spot in Philly called U-Bahn and I was opening for DJ Royale. I can't put into words how terrible I was . I remember the equipment not being set up and having no idea what cables went where and just generally panicking. I also spent days pre-preparing a 35 song set which in hindsight was the opposite of reading the room. Luckily the room was filled with friends and family which made it much less stressful. The industry has changed SO MUCH since then. Back in 2017, everyone was judged by their
mixes and branding wasn't as huge. Today, everything is about your social media presence, quality of your content and just overall public brand. I see this continuing to grow with the emergence of TikTok and Reels and Shorts and see short form content and music as the future.
What are some of the things you consider when deciding which tracks to mix together? How do you plan your sets?
I'm at my best when I'm being dynamic but it really all depends on the room, the crowd, the city, the energy, the time etc. I typically like to take the crowd on a musical journey during my sets where I don't stay in one genre/sub-genre too long and you never really know what direction I'm going in. I love to keep the crowd guessing and on their toes but also want to cater to everyone in the crowd. The best crowds are the diverse ones where everyone has a favourite genre/sub-genre but also are vibing to the other stuff because they know eventually, they will hear what they came to hear.
Listen to "Baby I'm Good" on Spotify: