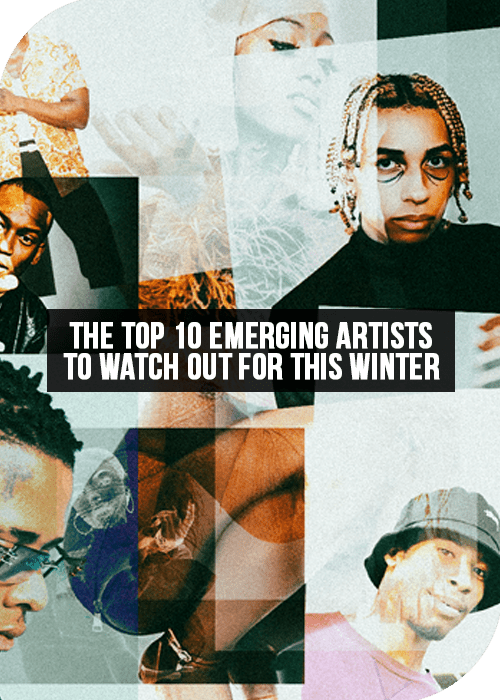 The Top 10 Emerging Artists To Watch Out For This Winter
Alabama-based rapper Yung Bleu got into the game in the early 2010s after watching his brother interact with local hip-hop circles. Though rapping since he was 11, he first entered the public arena with self-released mixtapes like 2013's Hello World. Over the next few years, Yung Bleu produced a series of mixtapes called Investments, Investments 2, and Investments 3, each expanding on his dark, ominous style and increasingly intricate flows. The rapper eventually developed a working relationship with Boosie Badazz after being discovered by Boosie's manager and brother "TQ". Bleu began collaborating with him on several tracks and landed a deal with Boosie's Columbia Records-affiliated imprint, Badazz Music Syndicate.
Some of his most popular albums are Moon Boy and Love Scars: The Five Stages Of Emotions. He has definitely made a name for himself this year with several amazing releases that amassed millions of views. "Waterworks" featuring Gunna is a treat off Moon Boy album and a must-hear.
#2 Raiche
They call her a siren for her mesmerizing voice. Raiche's music is absolutely powerful and original. Growing up in Pittsfield, Massachusetts, Raiche honed her craft since her school years. She relocated to Boston, where she became enmeshed in the nightlife scene. Soon enough her "Money Pies" arrived. Her music hit the streets, she inked a deal with Atlantic Records, and released an EP called Drive . The project features seven songs all showing various dimensions of Raiche's style and sound. She continued on to release several successful singles including "Pull It", "Pick A Side" and her latest "Burn Your Clothes".
Stove God Cooks might be a leading voice of hip-hop's gritty, lyrically-inclined renaissance, but his aspirations can't be confined to one lane. The Babygrande artist wants to be mentioned in the same breath as today's superstars and given his unique ability to construct melodies and elite level lyricism, there is no doubt he will accomplish his goal. This year the artist has been on a victorious escapade releasing "Dope", "Cold", "That's The Game" and "Run It Up". Enjoy this catchy, bold song by Stove God Cooks below.
#4 Flo Milli
Her new single "Ice Baby" is a colorful feast you'll want to put on replay. Flo's only album was released in 2020 under the title "Ho, why is you here?" and millions of streams to date. Flo Milli has an eclectic style interwoven with modernity in a beautiful way. No wonder there are thousands of people around the world that appreciate her songs.
#5 aku
Aku is an artist of experimentation. He is a poet at heart blessed with an immense talent to notice and create novelty. The artist's previous work includes singles like "Time Away", "Forever", and "Lost in Heaven Space", all beautiful songs much loved by his audience. aku's latest release was "Cosmic Pluralism" in which he masterfully blends jazz and rap proving yet again how original and modern he can be. His "rose gold in paris town" has received tons of attention since its release and especially now when a brand-new music video was released. It quickly gained around 100K views and became the staple of aku's music. Elegant and timeless, aku's songs have heart and soul; they express humor and intricate concepts that aren't often spoken about. Enjoy the music video below.
#6 NO1-NOAH
This artist has the most ethereal voice. His two previous albums have made a huge name for him: Free Drugs and Feeling In Color of 2018. Fans are starting to wonder when the next album will be coming out. In the meantime, there are several great singles to enjoy like "Lava", "Bounce", "Stay" and "Ride".
What sets NO1-NOAH apart from other artists is his variety of perspective. Not only is he brave enough to expose his vulnerability from the windows of a hip-hop house still governed by hyper masculinity, he addresses heartbreak with forgiveness and accountability as both the broken and the breaker. His "Ridin For My Love" is a beautiful depiction of the artist's emotions, bold and passionate.
#7 Caleb Kunle
One of the most exciting new faces in the hip hop department, Caleb Kunle has an amazing voice which is fully on display in "Eden". Caleb draws inspiration from three cities – Lagos, Laois and London. "The trio guide my exploration of balance and duality, self-love, and the complexity of romance in the modern world. My exploration sounds like Soul, Folk, Jazz and something beyond," says the artist. His music is truly boundless. His two EPs Eden and Rose Hertz are absolutely loved by Caleb's audience. "Could Be Good" is his latest single, a magical song for any mood.
#8 James Mantis
The LA-based artist recently came out with a new EP Jab Step Pop that encompasses Mantis' experimental style and passionate music. This year the artist has released several equally beautiful singles like "The Cost Of Living", "Amnesia", "Sportgod", and more. Distinctly modern, James Mantis makes soulful, heartfelt music that is for everyone regardless of background, age and even taste.
#9 LIFEOFTHOM
This spirited hip hop artist is making a name for himself with a new song "Sleepy Hollow" featuring ICECOLDBISHOP, just in time for the season.
THOMAS is a multitalented artist hell-bent on defining the next generation of music. Hailing from Washington Heights and beaming to us from another dimension, THOMAS kicks off 2021 with the release of his new single and video for "F#CKBOYON10", demonstrating his diverse talents as a rapper, visual artist, producer, & overall sonic architect. He has been praised by Lyrical Lemonade, Milk, Office Magazine and ELEVATOR, to name a few as well as Spotify's Fresh Finds and Apple Music's New York, New York playlists. After Robot Jesus, his only EP to date, fans are anxious to see another collection come out.
#10 Fashawn
This California-based rapper is quickly climbing up the popularity ladder with his new song "Castle"
Rapper Santiago Leyva also known as Fashawn, wrote his first rhymes at the age of 12 and by 15, he released his first mixtape. A prolific writer, Fashawn released a handful of mixtapes through 2008. The hard work began to pay off with recognition from hip-hop publications including XXL, which gave a high rating to his first proper album, the Exile-produced Boy Meets World. For several years, Fashawn continued to issue mixtapes, including the Green Lantern-presented Ode to Illmatic, and shared the mike on tracks with the likes of J. Cole, Skyzoo, and Wiz Khalifa. This year's releases include "Castle" in collaboration with Sir Veterano and Aloe Blacc and "All Hail The King".